14 Of The Best Hotels in Lisbon With Rooftop Pool
Looking for the very best hotels in Lisbon with rooftop pool for your next getaway? Keep reading.
Arriving in Lisbon, you are greeted with this historic and enchanting city that is easy to explore and is fast becoming a popular destination. Whether you only have three days in Lisbon or more, there are quite a few places to choose from when it comes to hotels.
This capital city is one of the most beautiful modern cities in the world that still retains the look and feel of a 19th-century city. For those who want something a little more luxurious when visiting, hotels in Lisbon with rooftop pools should be the go-to option, especially during the summer months.
14 Best Hotels in Lisbon With Rooftop Pool
Disclosure: This post contains affiliate links. If you click one of them, we may receive a small commission at no extra cost to you.
Best Lisbon hotels with rooftop pool: Quick Look
When choosing a place to stay in Lisbon with a rooftop pool, you have quite a few options. Here are some of the top places to call home during your trip.
Memmo Alfama – Design Hotels
This Lisboa hotel is in a building from the 19th century that has been tastefully refurbished into the luxurious accommodation that it is today. The interior is a mix of modern, simplistic decor with warm tones and light colors throughout.
You can expect a bed laden with the best Egyptian cotton sheets and all the pillows you could ask for. Some rooms have a terrace while others have views of the city or river from their windows. Upon arrival, there is a living room for you to rest in while you wait for one of the 24-hour on-hand concierges.
If you're looking for a rooftop pool to relax at, this is the place to be. As the sun starts to sink below the horizon, take to the roof for stunning vistas of the Tagus River as the sky turns to hues of pink and orange. Here you can stay, sipping on your drink from the wine bar and breathing in the night air.
Grab yourself something from the breakfast buffet served every morning to get you ready for the day of exploring ahead. Step outside into the streets surrounding this hotel, and you are only a 5-minute walk from the São Jorge Castle and traditional Portuguese restaurants.
Click to view hotel availability and check prices below
Sana Reno Hotel
If you find yourself looking for a place to stay in the center of Lisbon, the Sana Reno is a modern hotel that should be on your radar. The rooms are full of natural woods with a minimalistic interior design, and a few bold colors are thrown in for good measure.
The rooms are all air-conditioned, so you can escape the summer heat, with a small desk for anyone who needs to answer any emails that simply can't wait. All of the rooms at this hotel are soundproof and come with a minibar. Some of the larger rooms have coffee machines, too, providing the perfect way to start your day.
A major attraction is the rooftop swimming pool that offers guests views over Lisbon. Head on up, grab your sun lounger for the day, and relax poolside while catching a tan.
There is a breakfast room where you can take your pick from a buffet breakfast every morning. Or, if you want to enjoy a slower start, order some room service.
The hotel is right next to public transportation access and close to the center of Lisbon, a historical wonder. To recover from a long day of walking, you can jump into the hotel sauna and let your body's aches evaporate with the steam.
Click to view hotel availability and check prices below
Jupiter Lisboa Hotel
This is a lovely hotel for those seeking a wellness escape in the heart of Lisbon. The Jupiter Lisboa is an almost brand new hotel, built within an original building from the early 1900s, preserving the original architecture and style on the exterior. The exterior may look weathered, but the interior has bohemian-style decor throughout.
This hotel offers lovely, spacious rooms with refreshing air-conditioning to help cool you down. The rooms are all soundproof to ensure the sounds of the lively streets below don't keep you awake at night. There is free Wi-Fi to plan your adventures for the next day and a flat-screen TV to relax with before drifting off to sleep.
There are two, yes two, pools with one being on the rooftop with its own rooftop bar during the warmer months of summer for a panoramic view of the city. There is an on-site restaurant serving a range of cuisine to suit all taste buds.
Visit the on-site spa, the BluSpa, for some pampering or get a sweat on in their fitness center. There are also three different meeting rooms for those who need to do some work while away on holiday.
The front desk can arrange car rentals and shuttle service if you need it. You can get your holiday shopping done in the Chiado or Baixa Pombalina areas and visit the surrounding areas.
Click to view hotel availability and check prices below
Verride Palácio Santa Catarina
The stunning home overlooks the Tagus River and is in Lisbon's historical centre. Verride Palácio Santa Catarina is a stylish hotel with modern facilities that mixes ancient features with contemporary comforts. The building's rooftop patio offers panoramic views of the city.
The on-site restaurant serves a sumptuous breakfast, which can be completely customized to your liking. Or dine on the outdoor esplanade with views of the city and pool or at a large table inside the hotel.
Each room or suite has its own distinctive style and cleanliness, with some offering stunning views of the Tagus River from their private balconies.
The apartments all have large windows, natural light, and bespoke designs. There is a small swimming pool area on the terrace that looks out over Lisbon's roofs and river.
The property is located near Santa Catarina Belvedere and is only 300 meters from Chiado. Commerce Square and the famous Augusta Street Arch are both 5 minutes walk away from Verride Palace Santa Catarina.
Click to view hotel availability and check prices now
Epic Sana Lisboa Hotel
The Epic Sana is one of the newest hotels in Lisbon with an inviting rooftop infinity pool and incredible views of the city. This ultra-modern hotel has a contemporary design with a slight bohemian-inspired decor on the inside featuring natural woods and turquoise throughout.
Once you walk into your room, throw on your bathrobe and get comfy. You will be greeted by a large comfy bed, with a small desk in each room for any work you need to do. Only some of the rooms will offer views of the city of Lisbon, but the comfort more than makes up for the lack of views.
This hotel is perfect for traveling business executives with meeting rooms available. For the family, babysitting services are available by request. This is great if you want to head to the on-site spa to get a massage and relax your mind.
The on-site restaurant offers incredible gourmet food, which you can even have sent up into your room if you feel like it.
The hotel is near the Lisbon Metro, making it an amazing place to set up as your base when exploring the city.
Click to view hotel availability and check prices below
Holiday Inn Lisbon, an IHG Hotel
Did someone say 4-star luxury in the center of Lisbon? The Holiday Inn is a beautiful and trusted hotel with a crisp, clean interior and perfect for anyone visiting the city. A lot of natural wooden furniture and white sheets await inside.
Step inside the marble lobby, and you know that you are in for quite an experience.
The rooms are tastefully decorated and include air conditioning to keep you cool, calm, and collected after a busy day walking the city. Some rooms also have a lounge with a sofa bed for extra visitors who may make their way on your tip.
Take to the rooftop pool and terrace for some gorgeous sunsets or days laying in the sun. The hotel plays host to a business center for any conferences, with the Vasco da Gama restaurant on hand to bring the flavors of Portugal and the Mediterranean to guests.
The on-site Almirante cocktail bar has a selection of local wines for the connoisseur to try and test their palette.
Click to view hotel availability and check prices below
HF Fenix Music
This hotel in the center of Lisbon is a little different for those who want a unique experience when visiting the city. The name should give you an idea of the theme with bright neon lights outside this brand new hotel and a musical theme throughout. This place is quite the vibe for anyone visiting Lisbon.
The minimalist rooms live up to the music theme with bright colors, bold furniture, and a Bluetooth sound system with some neon lighting that you can connect to and play your favorite tracks. Each room is soundproof, with free Wi-Fi and toiletries included.
This is one of the best rooftop pools in Lisbon and is one of the highlights of this incredible hotel. There is a rooftop bar and lounge where you can grab a drink and some snacks while listening to the cascading waterfall that fills the pool.
With its central location, you are spoilt for choice when it comes to the restaurants that surround this hotel. The more high-end retailers are just a short walk away for anyone who wants to partake in a little retail therapy.
Click to view hotel availability and check prices below
Lux Lisboa Park
When it comes to a rooftop pool in Lisbon, the one at the top of Lux Lisboa Park is one of, if not the best, in the city. This 4-star modern hotel is surrounded by colorful buildings and picturesque views from almost all angles.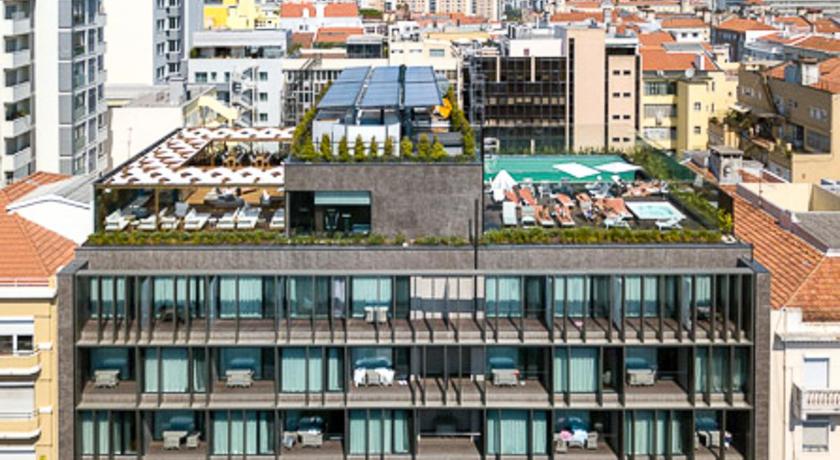 Each room is decorated with more natural tones and furnishings used throughout. They are all soundproof to keep the extra noise out, with air-conditioning to keep you comfortable and cool. Some have a private balcony to sit outside and enjoy the sounds of the city.
There is an on-site bar on the rooftop terrace but the major pull is the heated pool with a little hot tub on the side. This pool even has glass sides, the perfect thing to take some awesome photos for Instagram. There are meeting facilities available for anyone who needs to mix business and pleasure.
This hotel is close to the Bairro Alto district with easy access to public transport as well for any day trip from Lisbon.
Click to view hotel availability and check prices below
Epic Sana Marquês Hotel
Found just off the Maruês de Pombal Square, this hotel is a modern gem that you will find in downtown Lisbon. This is one of the more unique hotels considering what they offer but this 5-star hotel is worth every penny with the amenities and features on offer.
Apart from the standard rooms, suites are on offer with a generous size and are exquisitely decorated.
Relax in a hot bath or jump in the shower quickly, with suites having living rooms and a workstation for the executive on the move. With a crisp minimalist and modern decor, you will feel at peace inside your room.
Now what awaits on the roof is not just any infinity pool, but a heated one, perfect for swimming no matter the weather. Enjoy beautiful views of the Tagus River and the surrounding areas.
The on-site restaurant, Koji, served delicious Japanese cuisine, not something you'd expect to find in the heart of Lisbon. The Allora restaurants also serve some of the best Italian food you will find in the city.
Make use of the wellness center inside the hotel for some amazing treatments that are on offer. The Turkish bath is a particularly lovely way to relax before or after treatment.
Click to view hotel availability and check prices below
Hotel White Lisboa
For a drop of elegance within the heart of Lisbon, Hotel White is a desirable option and a hotel that everyone should visit at least once. The name says it all – this all-white accommodation stands out amongst the surrounding buildings.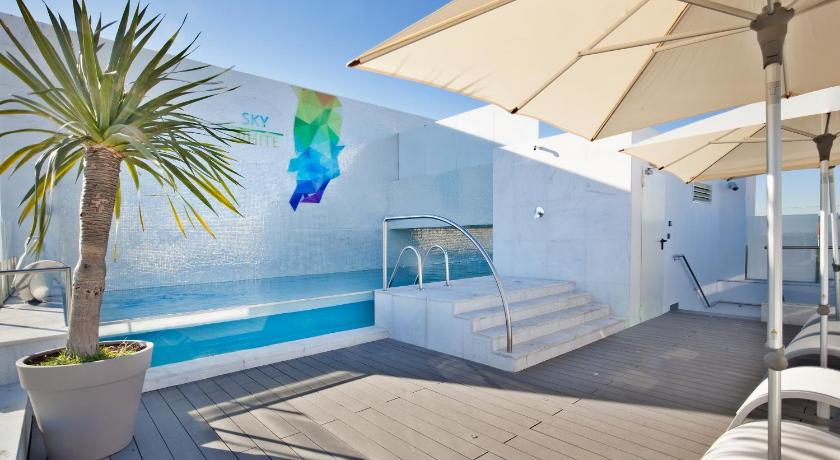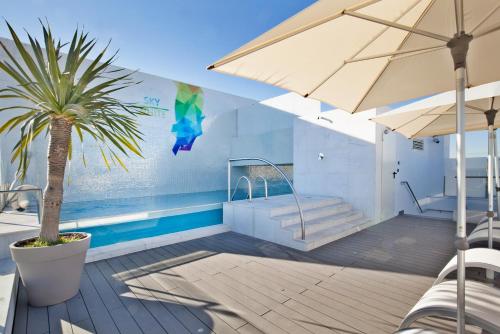 The rooms are crisp and clean, with mostly white and light shades of blue. The best has to be the duplex suite, a double-story room with a kitchenette. Some of the other rooms have lounge areas where you can relax while uploading images from the Lisbon photo spots you've visited.
Fuel yourself up for the day in the breakfast room with a range of tasty food from the buffet. The roof is where you want to be, though. The outdoor swimming pool offers incredible city views while floating around in the water. Warm yourself up while relaxing on one of the many sun loungers after and catch a tan.
The hotel's location means that a lot of the city's attractions are easily accessible and would suit any two-day itinerary for Lisbon. The São Jorge Castle, one of the most notable buildings in the entire city, is within walking distance.
Click to view hotel availability and check prices below
NH Collection Lisboa Liberdade
For one of the best views of the city of Lisbon, the NH Collection is a 4-star hotel and is a top destination. With a modern finish, this pet-friendly hotel offers a getaway in the middle of Lisbon's historic district to those who want a little luxury during their visit.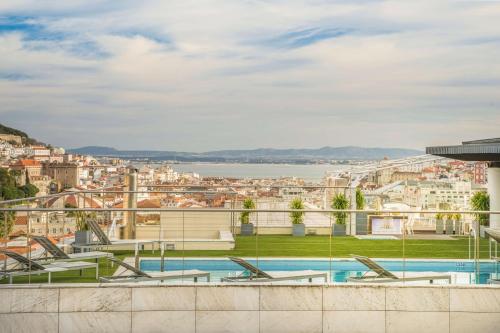 The rooms are all pretty spacious with a light and modern style inside, featuring a lot of natural wood and light earth tones.
One of the perks is that each room has a Nespresso machine, with complimentary pods provided daily. Some rooms have a private balcony to enjoy the sights and sounds of Lisbon, while others have window views.
The rooftop pool is on another level, literally and metaphorically. With stunning views and a lawned terrace, this is a brilliant place to relax on a sunny day. It would have to be sunny as the rooftop pool is open seasonally.
The on-site restaurant, Do Teatro, offers delicious local Portuguese food, while there is also a café for any snacks you may want during the day. You can work off those calories at the on-site fitness center.
The hotel is minutes away from Bairro Alto and the Marquês de Pombal Square and is located on the Avenida Liberdade – filled with shopping areas. Since it's in a hub, there are plenty of restaurants and stores surrounding the hotel as well if you want to try something new.
Click to view hotel availability and check prices below
Sheraton Lisboa Hotel & Spa
If you are looking for some style and a touch of chic, the Sheraton in the center of Lisbon is a spacious and modern hotel that will suit you perfectly. The Lisbon skyline awaits you on the rooftop of this tall and luxurious accommodation.
There is a room for everyone, even a presidential suite that offers access to the executive lounge. For the honeymooners out there, this is the room to choose from. They are all spacious rooms, though, with designer elements throughout. Expect air-conditioning and incredibly comfortable beds to slip away into your dreams at night.
This rooftop pool sits on top of the spa next to the main hotel. This is a great place to rest in the sun between spa treatments and cool off from the intense Portuguese heat. There is also an on-site fitness center for anyone who wants to break a sweat during their stay.
The nightlife of Lisbon is within walking distance with different theaters and restaurants all around for you to soak up the local vibe.
Click to view hotel availability and check prices below
Memmo Príncipe Real – Design Hotels
This hotel exudes luxury and exclusivity, thanks to being set in one of the top districts in Lisbon. With its ultra-modern design and high-end finishes, this is the hotel to visit if you have a taste for the finer things in life with its contemporary, timeless style.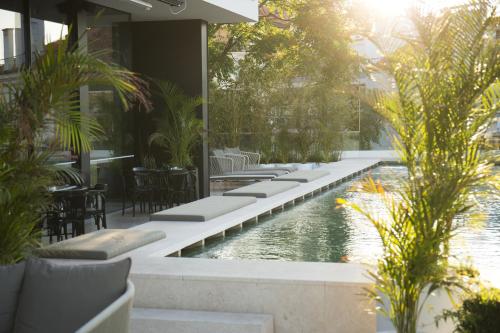 All rooms are kept at the perfect temperature thanks to air-conditioning, with some rooms offering a private terrace. Slip into your bathrobe and slippers and get comfy with your significant other.
Everything about these rooms screams natural tones with wooden finishes and light, clean colors to contrast.
There is a rooftop pool with a lounge to sit back and relax in. Visit the Café Principe Real restaurant for some incredible international cuisine that you can eat on the terrace next to the pool and indulge in a little people watching from the sky.
The hotel is close to public transport and within walking distance of Commerce Square, perfect for some lunch and time outside.
Click to view availability for Memmo Principe and check prices now
Altis Belem Hotel & Spa – Design Hotels
For unrivaled views of the Tagus River, this 5-star waterfront hotel screams luxury and is one of the most extravagant hotels in the city. You can find this hotel in the Belém district of Lisbon, with its ultra-modern design and aesthetic.
Step inside these rooms and be treated to incredible river views with electric curtains to keep the light out for any late sleepers. You can relax in the bath while enjoying your river views simultaneously. All rooms have unique twists of bold colors with minimalistic modern furniture.
Head to the rooftop sundeck and grab a lounger next to the pool with views overlooking the river. Visit the on-site library to grab a book to relax in the sun or visit the spa for one of their specialized treatments.
A standout of this hotel is its restaurant, the Michelin Starred Feitoria, and its award-winning menu of flavors from around the world.
The hotel is minutes away from the Jerónimos Monastery and Belém Garden. You can explore the entirety of historic Lisbon from this hotel.
Click to view Altis belém hotel availability and check prices now
Tips for Choosing Your Accommodation in Lisbon
Choosing a hotel is always a tough decision, but there are a few things to consider that will make your life a little easier.
Choose a Hotel That is Within Budget
This should go without saying, but it can get a little overwhelming at times, and it is easy to get caught up in all the amenities and extras that hotels offer. Don't let the flashy extras catch you out when you know it is something you don't need.
Location is Important
This comes down to where you want to visit and explore the city. If you're going to spend most of your time in the historic district, try to find a hotel to cut down on travel time. This will also give you more freedom and time to explore the areas you are interested in and use your hotel as a base camp.
Know What is Important for You
At the end of the day, choose a hotel that suits you and your preferences. Everyone has different tastes and factors that are important to them, so what might be perfect for you might not be for the other.
Final Thoughts on Hotels in Lisbon with Rooftop Pools
There are a lot of hotels around the city with some incredible attractions, but those with rooftop pools offer something different, especially in the warmer months. With the stunning cityscapes that come with these hotels, it is not hard to see why they are so popular.

Choosing where to stay in Lisbon for the first time is intimidating, but this city is worth it.
Read more of our Lisbon Portugal Guides:
Pin: Best Lisbon hotel with rooftop pools