12 Best London Hotels With River Views to Book
London is where everyone seems to be flocking to these days. What's drawing everyone here? Is it the rich cultural diversity or the extensive range of restaurants, museums, and shops? We think it has something to do with the variety of London hotels with river views that allows you to explore it all.
There's no better place to find a renowned luxury hotel coupled with a signature restaurant than on the embankment of the Thames River. You get to have a serene escape from the city hustle and bustle.
This is why we've dedicated this post to showing you the best hotels with a view of the River Thames and, depending on your location, the surreal London skyline. Better yet, they're all centrally located near the London City Airport, making it easy for you to enjoy your trip.
12 Best London hotels with river views: Top picks + review
Disclosure: This post contains affiliate links. If you click one of them, we may receive a small commission at no extra cost to you.
Below are our top picks for the best hotels in London with river views. So, keep reading if you're interested to find out the details plus a bonus tips section for booking your hotel.
Best London hotels with river views – a quick look
You have an abundance of fantastic options when deciding on a hotel in London with a river view. Here is a quick look at your options before we dive deeper into each property:
PS: Before you fly off, check out these exhilarating London Bucket list experiences to enhance your vacation.
Accommodation near Central London
Novotel London Canary Wharf
Welcome to the Novotel London hotel. You'll find this luxurious spot in Central London, only moments away from attractions such as Tower Bridge and Trafalgar Square.
London City Airport is the nearest of the three main airports in the city, and the Canary Wharf underground station sits at a short walking distance from the property.
This place is the love child of sophistication and art deco (with some industrial elements sprinkled in). Your day starts with a delicious breakfast on the roof terrace that offers panoramic views across London's skyline and the Thames.
Then you can head to the fitness center to keep up with your routine even on vacation or catch a few strokes in the indoor heated swimming pool.
If you're looking to unwind though, relax on the lovely outdoor furniture. For dinner, go up to the roof terrace to indulge in European cultural cuisines prepared at the Bōkan Restaurant.
There's also a bar, allowing you to sip away as you enjoy the fantastic views.
Corinthia London
Corinthia London is the place to be if you're looking for a luxurious lodging experience in the heart of the city. Trafalgar Square and Whitehall are practically at your doorstep.
Not only that, you'll find its location highly convenient – with public transport and the London City Airport within reach.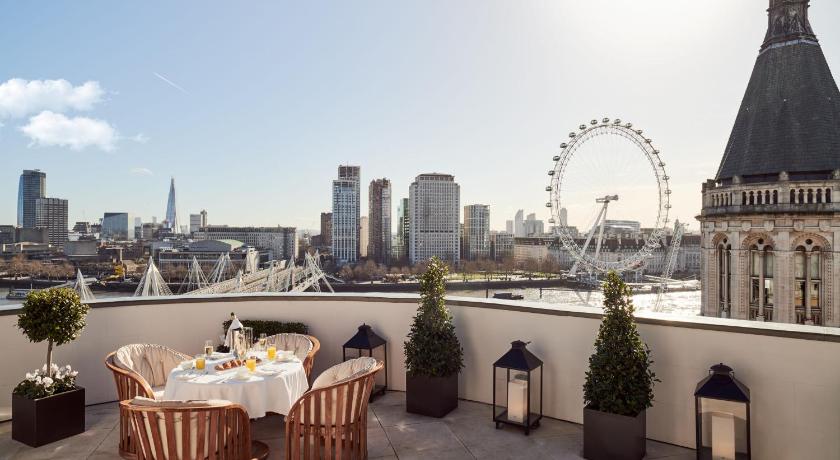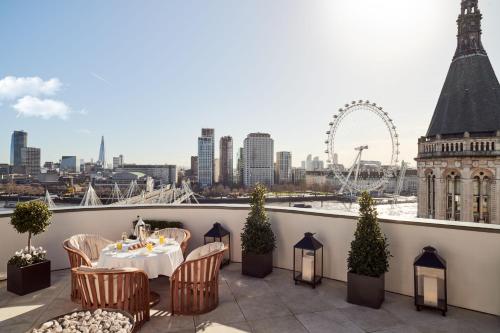 Other attractions just a short walk nearby include Big Ben, Westminster Bridge, London Dungeon, and more. The hotel has elegantly decorated and spacious rooms. The floor-to-ceiling windows showcase views of the London skyline and River Thames in some rooms.
This luxury hotel does not fall short when it comes to spoiling its guests. We're talking about their state-of-the-art spa featuring 17 treatment rooms spread across four floors.
A private spa suite, vitality pool, amphitheater sauna, and a multitude of beauty and wellness treatments are at your fingertips.
After leaving the spa revitalized and pampered, you can go to the hotel's restaurant owned by a renowned Michelin-starred chef, Tom Kerridge.
And to end off a spectacular day around London, the Northball Bar offers champagne, and shakes up (or stirs up) delicious cocktails along with live music. What a treat.
Cheval Three Quays at the Tower of London
When hearing "hotels with a view," Cheval Three Quays at the Tower of London should instantly come to mind. And that's because this luxury hotel displays unrivaled scenery of the River Thames and Tower Bridge.
While you're in the heart of London, you might as well see Big Ben, Trafalgar Square, Buckingham Palace, the South Bank, and the list goes on. The vibrant Brick Lane area is also within reach for a chance to browse its market and listen to live music.
And to sweeten the deal, the Tower Hill Underground Station is a mere walking distance from the hotel.
With much to see and do outside, you'd need a comfortable place to retreat to, and Cheval Three Quays knows this.
Each spacious apartment has a bright, airy design with clever light fixtures and geometric shapes. The floor-to-ceiling windows allow light to seep in, bringing forth a magical atmosphere.
Included in the ultra-modern apartments are also an open-plan kitchen and a living room that features a flat-screen TV. Get your muscles working in their state-of-the-art fitness center, or slip into a bathrobe and then submerge yourself in a bubbly tub.
ME London by Melia
ME London by Melia is a luxurious hotel in Westminster Borough. This place was designed by none other than Foster and Partners, lending it an elegant, ultra-modern appearance characterized by a cosmopolitan atmosphere. 
The rooms are airy and sophisticated, with large floor-to-ceiling windows overlooking the River Thames and Somerset House.
Sights and attractions surround the property by the dozen. You'll reach Covent Garden, Trafalgar Square, Big Ben, and Tower Bridge in just a few minutes.
Here you can enjoy 24-hour room service, gym access, and free Wi-Fi. And if you are worried about where you'll eat, the Radio Rooftop Bar offers breakfast with complimentary panoramic views over the London skyline.
Breakfast is sorted; what about lunch and dinner? ME London offers international fine dining, the STK London and Luciano by Gino DÁcampo.
You can book a balcony room or suite that includes a Bali shower, perfect after a long day of activities. A handful of stations are within close reach, such as the Covent Garden Station, allowing you to explore all of London easily.
Top Tip: This fun London by-night sightseeing tour takes you to Big Ben, Trafalgar Square, Shard London, and more attractions around the city.
Accommodation on or near the River Thames banks
London Marriott Hotel County Hall
The London Marriott Hotel County Hall sits right next to the River Thames. You can imagine how stunning the river view is. Not only that but admiring Big Ben from your elegant room is also on offer.
For a fun excursion, both Westminster and Waterloo stations are reachable in under 10 minutes.
After visiting the SEA LIFE London Aquarium or Dungeon, you can quickly return to your hotel and plop down on an inviting bed drenched in Egyptian cotton sheets. Slip into your luxurious bathrobe and slippers, then head over to the steam rooms for ultimate relaxation.
If you're up for it, you can work up a sweat in the gym and fitness center and cool down at the indoor swimming pool.
The Gillray's Steakhouse & Bar offers juicy steaks to guests with a rumbling tummy. Contrary to popular belief, even vegans have some options here.
This 5-star hotel is a top choice for London visitors, and with what we've mentioned above– and the stunning river views, you can see why.
Sea Containers London
Sitting on the River Thames banks, at the Sea Containers London, you can expect elegance and incredible river views. In terms of entertainment, you have plenty of options.
A seven-minute walk will take you to the Tate Modern and Shakespeare's Globe Theatre.
An extra few minutes reward you with the Borough Market, London Eye, and London Dungeon. The Sea Containers London is a top contender for hotels with a view for many reasons. One of them is that award-winning designer Tom Dixon decorated this hotel.
Rooms feature marble bathrooms with a rainfall shower, bespoke furniture, flat-screen TV, and even a minibar. Treat yourself to a full-body massage or foot bath at the Agua spa. Then, crack open a bottle of red and unwind on the sun terrace for the terrific city and river views.
That's not all, this elegant hotel boasts a riverside restaurant featuring a cocktail bar and outdoor seating. Guests are genuinely treated here, with Malin+Goetz toiletries and free Wi-Fi. And for the family, there's a bespoke 56-seat cinema, open from Friday evenings through Sunday.
The Royal Horseguards
Looking for a place near the River Thames and Trafalgar Square? We present to you the Royal Horseguards, a 5-star hotel fit for a stylish escape. The building overlooks the London Eye and sits close to the Covent Garden and National Gallery.
Guests can relish the fact that all their needs are met here. The Victorian-themed rooms are modern and come with tea/coffee makers and Elemis toiletries.
Also, the hotel's restaurant, One Twenty-One Two, covers your wine and dining needs during your stay.
The Waterloo Tube Station sits nearby, which can take you to the top attractions in London.
The British Museum, Big Ben, Tower Bridge, and Whitehall Palace are all fantastic options within the area. However, the lovely terrace with a river view presents a calming break from all the daily commotion.
Park Plaza London Riverbank
For truly breathtaking river views, look no further than Park Plaza London Riverbank. As suggested by its name, this hotel sits promptly on the Thames River bank.
The property features a fitness center, an indoor pool, a sauna, and other amenities. It's easy to see how staying here would be convenient.
Not entirely convinced yet? Consider the hotel's location, prime London sky, and Thames River views. The London Underground and Waterloo Tube Station are in close proximity, allowing you to explore the south of England.
Then there's the Tate Britain sitting right across the hotel.
Big Ben, the London Eye, and the Houses of Parliament are moments away. To keep up with your busy London itinerary, you can pop by the on-site fitness center for a quick workout.
When it comes to dining, you won't have to stray too far. This London hotel houses an award-winning restaurant, Chino Latino, a modern establishment serving up exotic Pan-Asian dishes. Then wash it down with a drink from the cocktail bar (a perfect way to start a night out in the city).
Each room contains a large work desk, minibar, and flat-screen TV – book one with a river view to make the most of your stay. The interior is stylish, with soft furnishings and eclectic touches. All you could ask for in one building.
The Savoy
The Savoy far exceeds its reputation as one of the best hotels with a view in London. Home to some of the city's best-known bars and restaurants, what more could you expect from this five-star hotel?
How about the Edwardian, art-deco interior, the elegant marble bathrooms, or the breathtaking views overlooking the River Thames?
With so much to boast about, you wouldn't want to leave — Winston Churchill, Katherine Hepburn, and Frank Sinatra might have shared the same sentiment.
This world-famous hotel sits on the banks of the Thames, offering its guests unmatched river views. And while you're here, take advantage of the spa facilities and lounge, featuring steam rooms, facials, massages, and other revitalizing treatments.
All pampered up, but not sure where to eat? Remember what we said about the bars and restaurants here? Well, you can have a go at them and see if you agree. Indulge in the finest seafood in the UK at Gordon Ramsay's Savoy Grill and The River Restaurant.
Or, take your pick at the drinks menu from the widely-known American Bar.
The Chelsea Harbour Hotel and Spa
The Chelsea Harbour Hotel is a top pick for those looking to experience the heart of London — and the stunning Thames River views sweeten the deal. Each stylish hotel room contains a spacious living area and a separate bedroom with an ensuite bathroom.
To turn up the relaxation, you're welcome to indulge in the Blue Harbour Health Club and Spa. Here, guests can enjoy the gym, a pool with integrated body and shoulder jets, steam rooms, a walk-in sauna, and more.
An abundance of attractions and activities await you just outside this 5-star luxury hotel. Shop until you drop at King's Road's famous boutiques, only a five-minute walk from the property.
Next, you can visit Kensington Olympia, Natural History Museum, and Madame Tussauds. The list continues.
This London hotel offers a contemporary dining experience with its harbor-side restaurant, Chelsea Riverside Brasserie. Between a decadent British menu, bright modern art, and terrace views of the marina, your eyes wouldn't know where to begin.
Need to plan your romantic date? How does a chatty evening in an intimate space, lit up by candlelight beside the marina, sound? And to keep the drinks coming, the sophisticated Harbour Bar is open all day.
Accommodation near Tower Bridge
The Tower Hotel
Nestled between St. Katherine's Dock and the River Thames is this stunning hotel with unmissable views. You can also catch a glimpse of the magnificent Tower Bridge and the Shard Skyscraper from here.
The Tower Hotel comes out on top for its excellent service, ideal location, and spectacular amenities.
Among these amenities is the top-tier on-site restaurant serving delicious, freshly prepared dishes. The bar area not only features an extensive drinks menu but fantastic city outlooks. Other grand amenities include a fitness center, flat-screen TV, and daily housekeeping.
If you're not enjoying the terrace or the excellent room service, you can take a stroll to Sky Garden.
The Imperial War Museum and London Zoo are within reach if you're looking for more adventure. But you also can't skip out on Tower Bridge, which is right there, the London Bridge, and more.
The Tower Hotel rooms are not as luxurious as others on this list, but they do offer a cozy, spacious stay. Not to mention, the unrivaled outside scenery makes it all the more worth it.
Couple that with a delicious breakfast in bed, and there's no better way to start your London day trip.
Shangri-La Hotel
At Shangri-La Hotel, expect luxury, modernity, tranquility, and breathtaking Thames River views. Sitting near the Tower Bridge and London Bridge Tube Station, we couldn't think of a better location. 
And to top it off, this 5-star establishment features three dining and drinking venues (more on that in a bit).
The hotel is adorned with Oriental-inspired interiors. And the uniquely-designed rooms also play on this elegance with floor-to-ceiling windows allowing in plenty of light. Wake up to spectacular scenery overlooking the London skyline.
Then, slip into plush bathrobes and refresh in the marble-clad bathrooms that feature underfloor heating and Acqua di Parma toiletries.
After refreshing, head down to TĪNG, a signature restaurant, and lounge that serves up Asian cuisine. To heighten your spirit, though, Shangri-La Hotel offers up London's highest champagne and cocktail bar, called GŎNG.
Once you step outside your hotel, sights, and attractions are abundant. Stroll along the Thames River banks, or take a quick tube to Big Ben, Westminster, and London Eye.
Oh, and you can also add Churchill War Rooms, Banqueting House, and the famous Piccadilly Circus to your list.
Tips when booking a London hotel with river views
Choosing a hotel that is perfect for your London vacation can be tough with so many factors to consider. Here are some tips to make things easier:
Book early
Booking early in London is key to securing your hotel room. As one of the leading tourist destinations in the world, you can see why this is important. Being ahead of the ropes can also land you better deals for your accommodation.
Book near public transport
Book a place near a tube station. Staying close to a tube station means you'll have easy access to most London attractions. It's also a cheaper and more convenient way to explore, as taxis can cost a fortune.
Most tourists use the daily underground/bus passes; find more information on this site.
Eat breakfast at your hotel
Have your breakfast at the hotel (thank us later). If hunting down cute and quirky cafes is your thing, go ahead. But if you'd like to save a buck or two, don't hesitate to take advantage of this amenity that some hotels offer.
Know when to book
Late spring and early summer are when the crowds come sprawling in, and this means flight and hotel prices go up too. So if you're looking to book on a budget, it's best to avoid this prime tourist season.
Know your surroundings
Always do your research on what places to avoid near your hotel when booking. London is considered incredibly safe, but pickpocketing is pretty common during the day. This practice may prevent you from losing anything valuable.
Wrapping up London's river view hotels
There you have it! The best river view hotels in London. Yes, there are an insane amount of beautiful hotels in this city, but the location and scenery can spice things up.
And we think the above places tick all the boxes in terms of luxury and location.
Choosing one of these hotels with a river view guarantees you'll be smack dab in the buzzing heart of London. With lively scenery, top attractions, renowned restaurants, and a flurry of public transport — you've hit the jackpot.
Read more of our London England and UK travel guides:
Pin: Best London hotels with river views