15 Wanderlust Jewelry for Travel Lovers: Gift ideas
Searching for some cool travel gift ideas? We got you covered, with our favorite wanderlust jewelry for travel lovers! This list of travel-inspired jewelry is locally made, with shipping options available for worldwide delivery. Choose your favorite design and type of jewelry and get delighted with a piece of wanderlust in your hands!
15 Wanderlust Jewelry for Travel Lovers
Disclosure: This post contains affiliate links. If you click one of them, we may receive a small commission at no extra cost to you.
I LOVE fashionable, costume jewelry – they are fun and easy to wear. Throughout the years, I have collected boxes of travel jewelry. My MOST favorite ones are necklaces with pendants and bracelets. I used to own quite a few chunky or statement rings, but since I got married I love wearing my wedding band/bridal set only.
Silver (little tarnished, vintage kind) is my go-to metal for travel jewelry, followed by muted gold color. Rose gold is also my favorite – I mean, who doesn't love variety. Most affordable layering pieces of wanderlust jewelry are silver .925. I prefer neckpieces to be dainty so that I can layer on, or style them on its own.
This curated list of wanderlust jewelry is available from ETSY, and they will touch every travel lover's heart. I have selected a few of my favorites below.
Neckpieces with pendents: Travel-inspired jewelry
I wear my love for travel on my sleeves neck! I am into muted gold pendants and designs these days – and they look fab. Most popular pendants include 'airplanes', 'globes', north-star, compass, 'city-name' or map.
.925 silver, gold plated, rose gold, fabric and steel metal are various options to choose from, for the chain or neckpiece. Here is where you can buy from:
Global Citizen necklace – ShopCkanani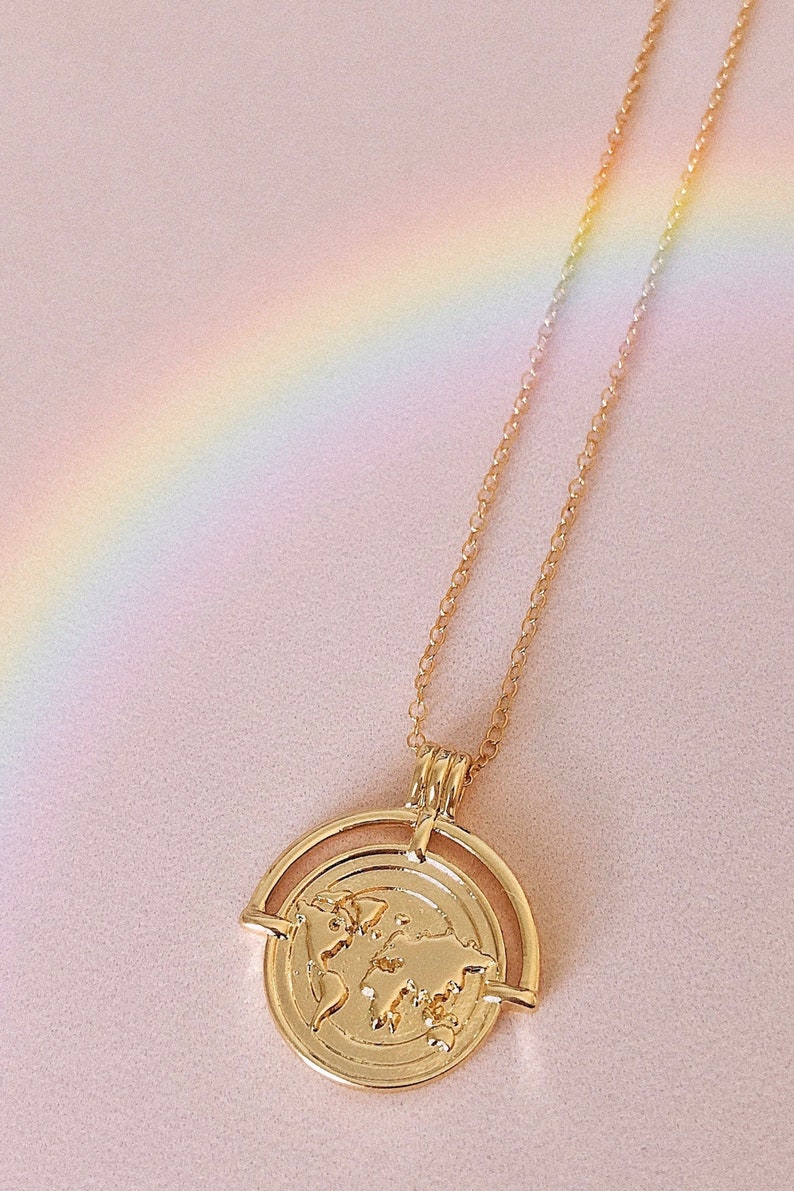 CKanani showcases this stunning 18 inch fully gold-filled world map necklace. It is perfect for layering for yourself, or for the global citizen in your life! Christie is a travel blogger, and her shop has more designs for travel lovers – like the plane pendant, and the 'wanderlust' pendent.
This item ships from USA.
Trium Jewelry for travel lovers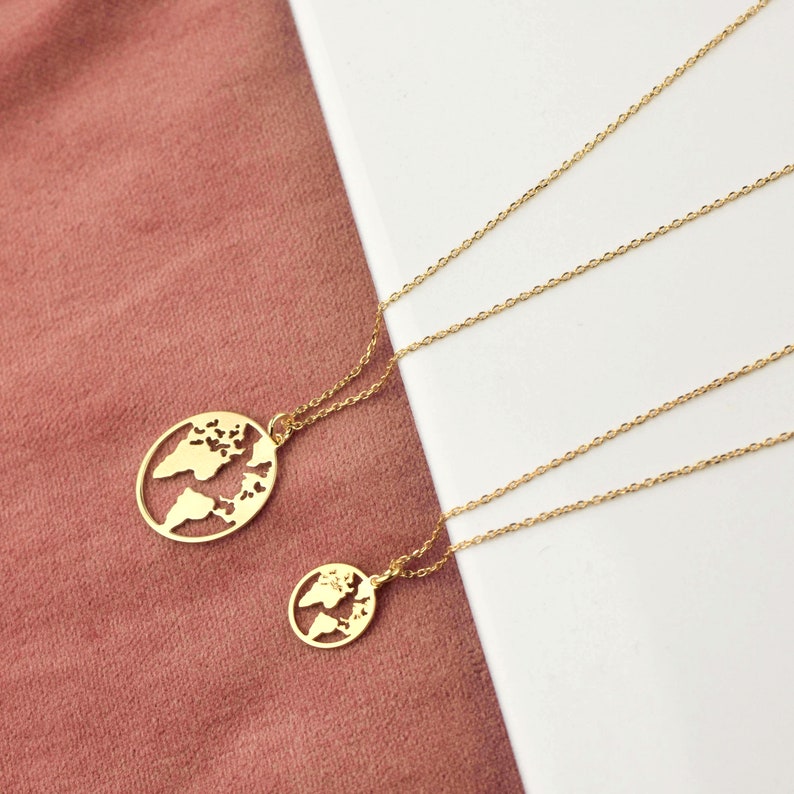 Trium jewelry creates stunning pieces of wanderlust jewelry for travel lovers. My absolute favorite is the 'Earth and World Map' necklace in gold. The cut-out earth looks stunning, and the pendant comes in two different sizes to fit every travelista!
The necklace is made of .925 silver and is gold plated and completely nickel free. You can also choose silver or rose gold for metal.
This necklace is a great gift idea, as it's delivered in a handcrafted gift box. This seller ships from Spain, so international shipping time applies.
Mountain & Wanderlust necklace – Sincerely Silver Shop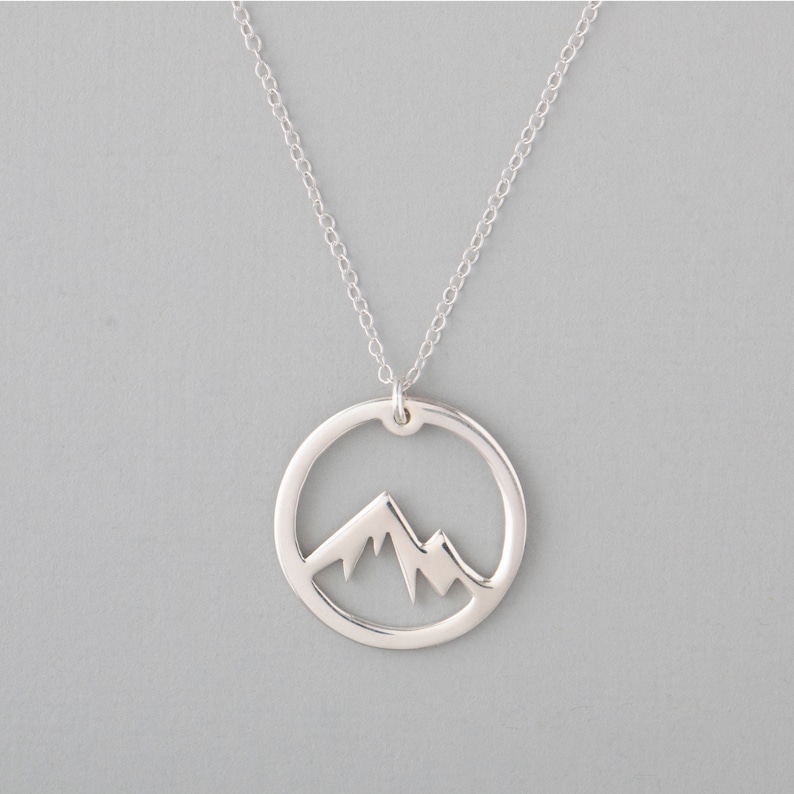 Calling for outdoor and mountain lovers! How cute is this wanderlust pendant from Sincerely Silver Shop?
This 'mountains are calling necklace' is made of sterling silver and is hung on a sterling silver chain. It is a beautiful layering piece with a silver choker or wear it on its own.
The necklace is hand-made and ships from the United States.
World Map Locket – Laurenblythedesigns
This 'world map locket' is made up of brass and comes with a brass chain with an antiqued brass lobster clasp. It is in gold color and is lead and nickel free.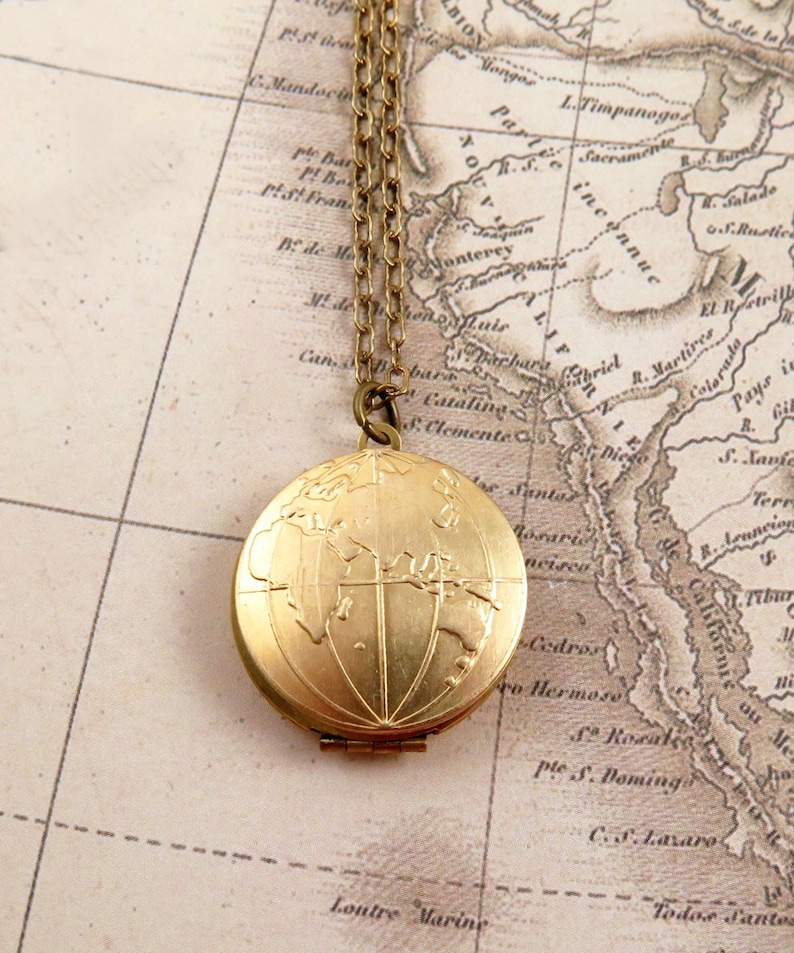 The map features the Eastern and Western hemispheres on both sides of the pendant – so perfect for the globetrotter in your life! You can also choose to personalize the locket with a hand-stamped heart initial to add to the front, and also add 2 photos for yourself or your loved ones!
You can email the photo/s to the seller to be added to the pendant. This necklace ships from the USA.
Silver Globe necklace – Bubblebox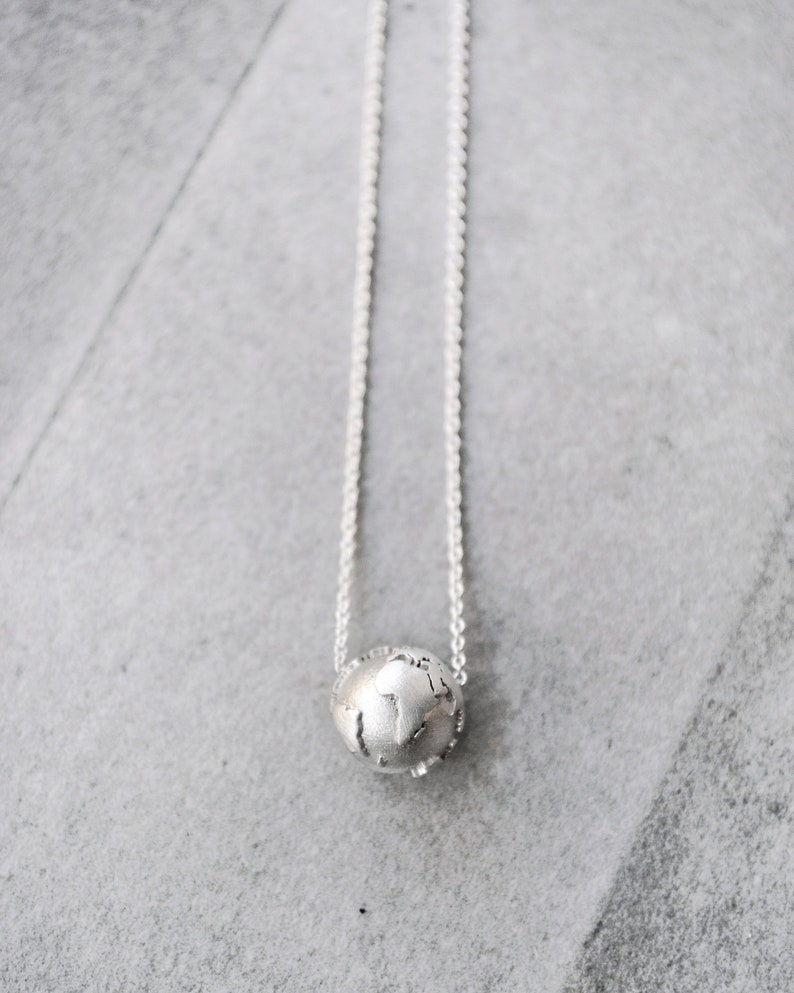 Choose this dainty silver globe on a chain to wear every day! The small map necklace is one of their best-selling items and motivational and inspirational jewelry.
The seller offers 3 types of jewelry plating – 24K Yellow Gold, 14K Rose Gold Plated, White Platinum-Plated, and Black Rhodium-Plated – to choose from.
The necklace is of 41 cms and is available in brass and silver .925. And it ships from Greece.
Map Necklace Wanderlust Jewelry – Eva Gifted Hands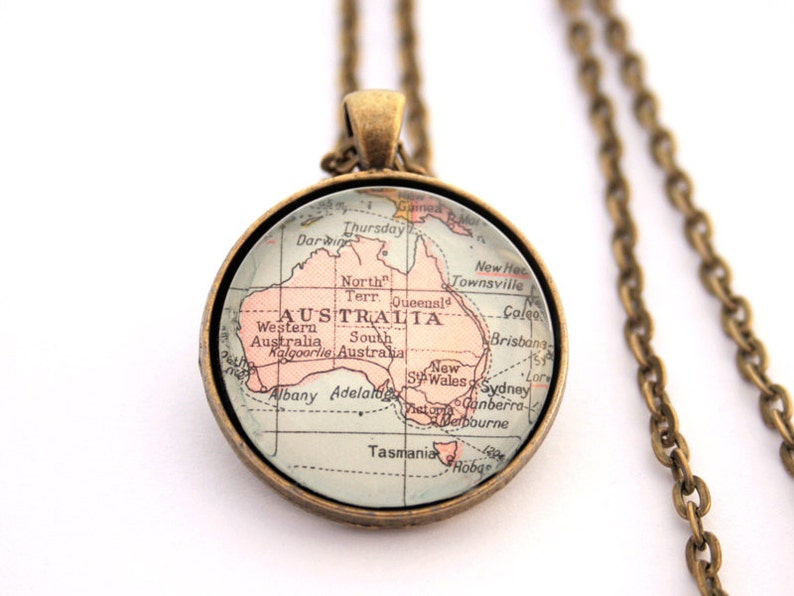 For those who love color and maps, this wanderlust jewelry is perfect for them.
This Map Necklace can be personalized with any place you like – think anniversary or any bucket list travel destination. The seller creates real, vintage world maps turned into wanderlust jewelry that are inspirational.
Gift it to someone who loves travel, to remind them of past adventures or goals of the future.
This item ships from the United Kingdom.
Bracelets: Wanderlust jewelry for travel lovers
Bracelets are my second favorite piece of jewelry after necklaces. I don't have a travel tattoo, so I find ways to wear travel on my sleeves – as a constant reminder and a 'pick me up' from the daily grind. I have a ton of charms from different places, which can be easily customized and worn on a bracelet.
Eiffel tower, airplane, camera, passport are some of my favorite charms that I own and love!
Airplane and wanderlust travel bracelet – Trend4ever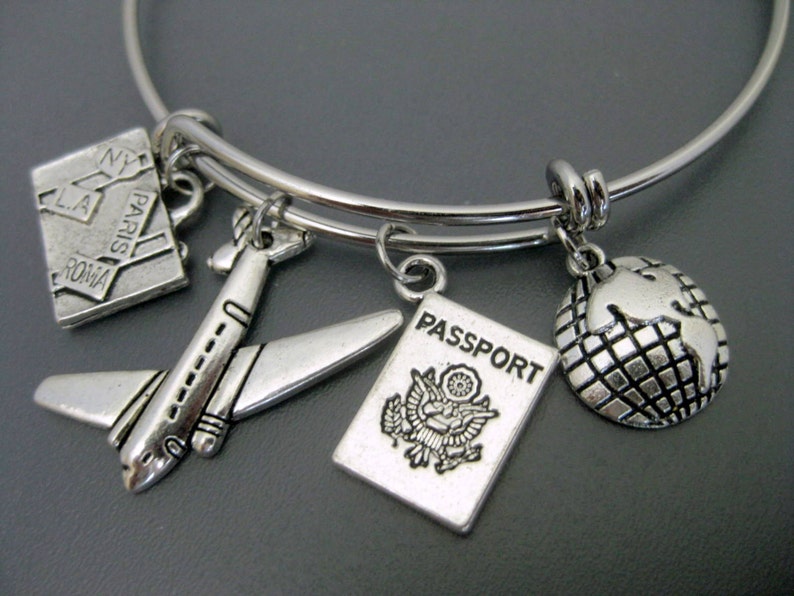 Yay! A Canadian seller, with an amazing rating, offers a completely customizable bracelet. You can add or exchange a charm, add a letter, number, birthstone or make it a stackable charm bracelet.
Choose between a small-medium or a large size bracelet. With 4 charms and a bracelet, this is a very affordable piece and is a perfect gift for travel lovers, or for yourself if you are a globetrotter. Ships from Canada.
Airplane Travel Suede Bracelet -Frendzwink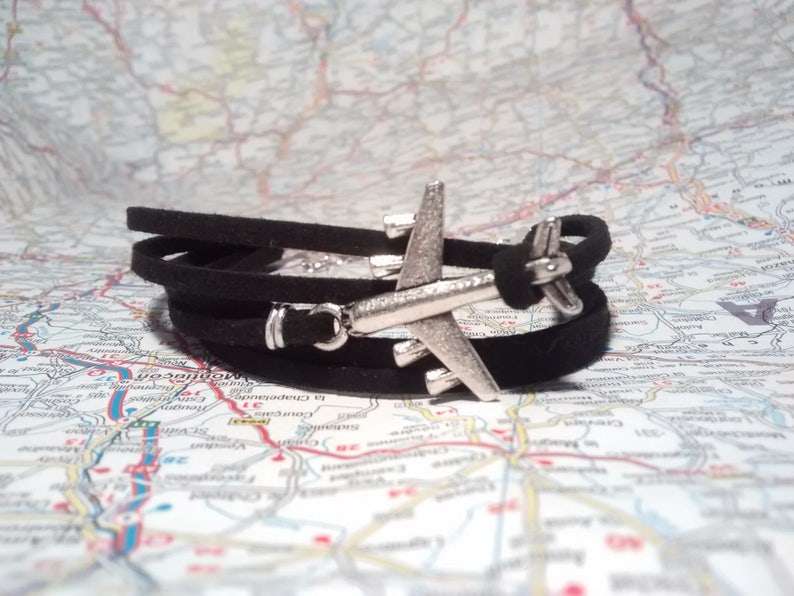 This unisex travel and wanderlust bracelet is perfect for the bohemian style lovers. The airplane charm is wrapped on a black suede bracelet and is lightweight to wear.
You can choose from two sizes – 6,5 to 7 inches or 7 to 8 inches. They also have other charms on offer – snowflakes, NorthStar, etc to choose from.
The bracelet ships from Canada.
The World Awaits Personalized Bracelet – Route22Designs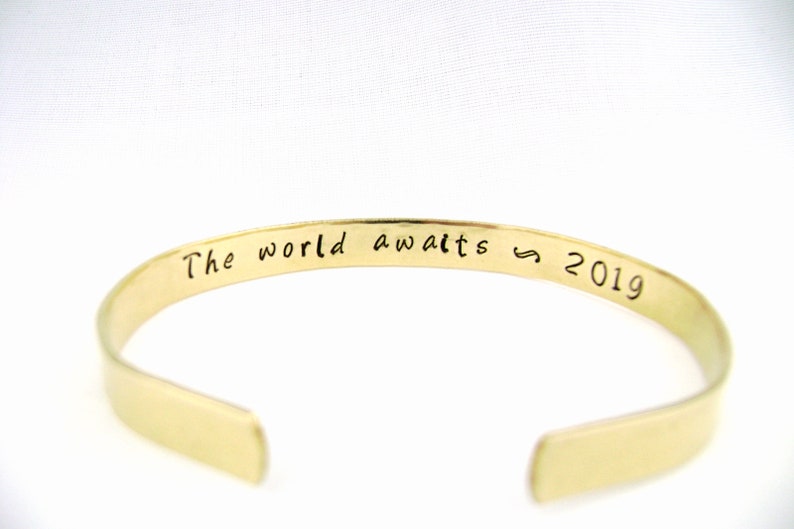 Beautiful and a meaningful cuff unisex bracelet, design to inspire you to keep exploring every day!
The travel bracelet cuffs measure 1/4″ by 6″ and can adjustable to fit any wrists (no measurements required if looking for a gift, as they are adjustable). You can choose the metal of choice – Aluminium, Brass, Copper, Silver.
The message inside the cuff reads, 'the world awaits' one of my favorite quotes, and it is hand stamped.
Ships from Canada, in a gift box with free delivery.
Earrings: Jewelry for travel lovers
Here are some of the top wanderlust inspired earrings!
Mountain Earrings – ShopEarFlair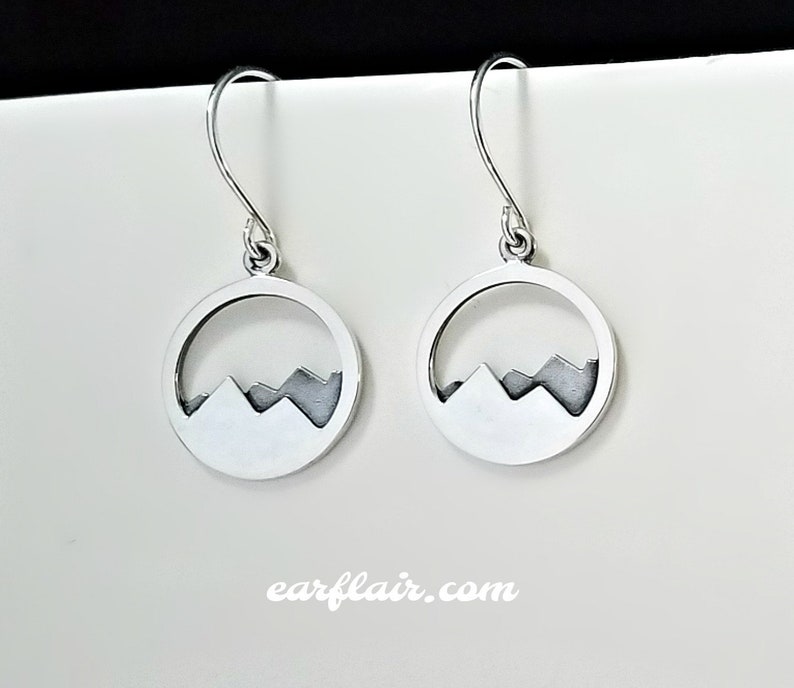 Choose these trendy mountain earrings from Ear Flair, for yourself or as a gift. These earrings are made of 15mm solid sterling silver mountain charms. The total earring length is about 31mm long. The ear wire is made up of 20 gauge Argentium sterling silver.
This item ships from the USA.
Silver Plane Ear Climber Earrings – ND Black Sheep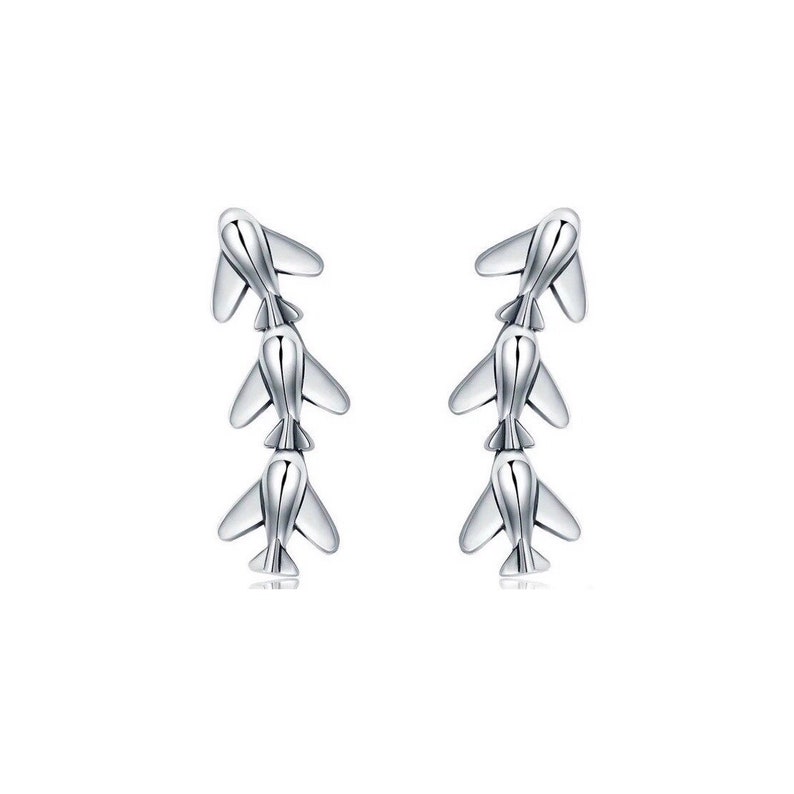 How cute are these plane earrings? They are super pretty, and you can easily dress up or down with these earrings. Sturdy, lightweight and great for everyday wear!
Plane earrings are hand-made, with genuine 925 sterling silver. So they are lead and nickel-free.
This item ships from the USA, in a cute gift box!
Traveler's Protection Gold Coin Medallion Stud Earrings – Hunter & Trove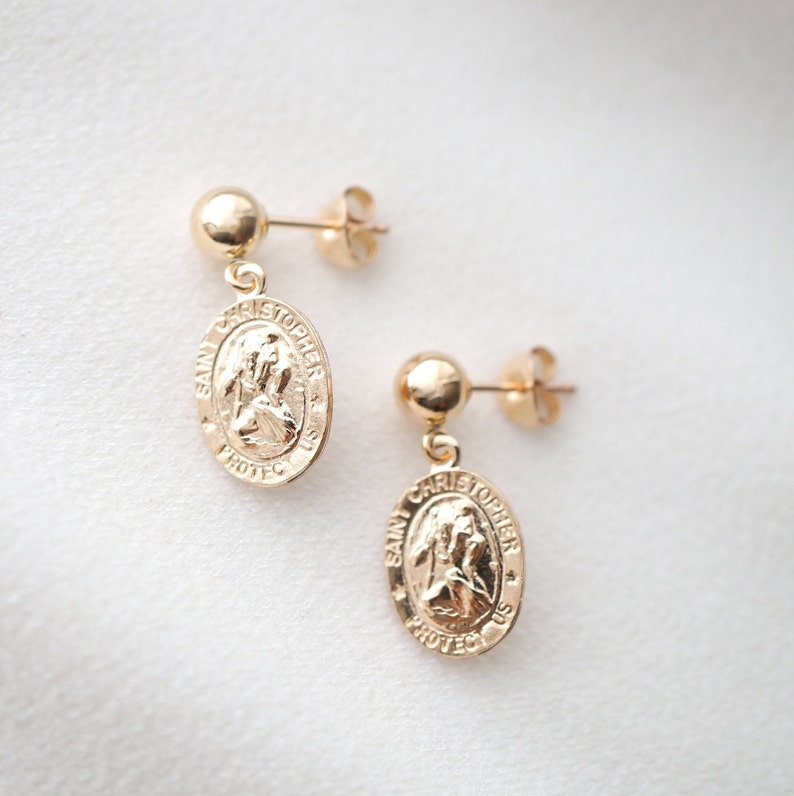 Some gold earrings this time – this beautiful pair of Traveler's Protection Gold Coin earrings – are perfect for every traveler. It's chic and meaningful!
Saint Christopher is the patron saint of travelers. The earrings contact engraving of St Christopher who guards travelers, keeping them safe on their journey.
The medallions and studs are made of 14K gold fill and silver and are hand-made. These earrings are packaged in a beautiful box for gifting.
This item ships from Canada, and offers free shipping to all Canadian provinces and US.
Eiffel Tower Earrings – Golden Tassel
Who doesn't love Eiffel tower? I DO! And I have tons of Eiffel towers bracelets, pendants, earrings, and souvenirs sprinkled all over my home. These earrings from Golden Tassel are great for the Eiffel tower/Parisian lover.
The earrings dangle with a fish hook and are made of silver – completely nickel free.
This item ships from the USA.
Rings: Travel-inspired jewelry
Although I don't a ton of costume rings today, I did own a few silver 'plane' rings. Here are some of my favorites from ETSY sellers (who knows I might add them again to my jewelry box)
Airplane Ring – Velanti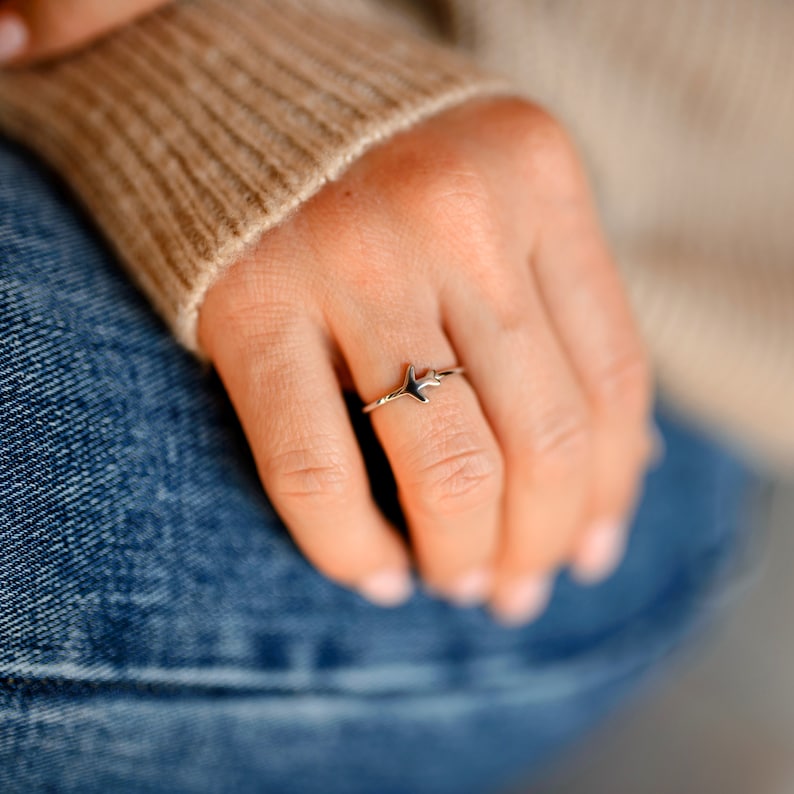 As you can see 'airplanes' are my favorite travel shaped jewelry, and rings are no different. This dainty airplane ring is perfect for the wanderlust lover. It is discreet, yet a nice travel reminder – to keep 'exploring'!
This beautiful ring is made of .925 sterling silver and is rhodium-plated. Rhodium is a hypoallergenic material and gives the ring shine, without harming your skin.
The seller includes free delivery, from Ukraine.
Cityscape Ring – Caitlyn Minimalist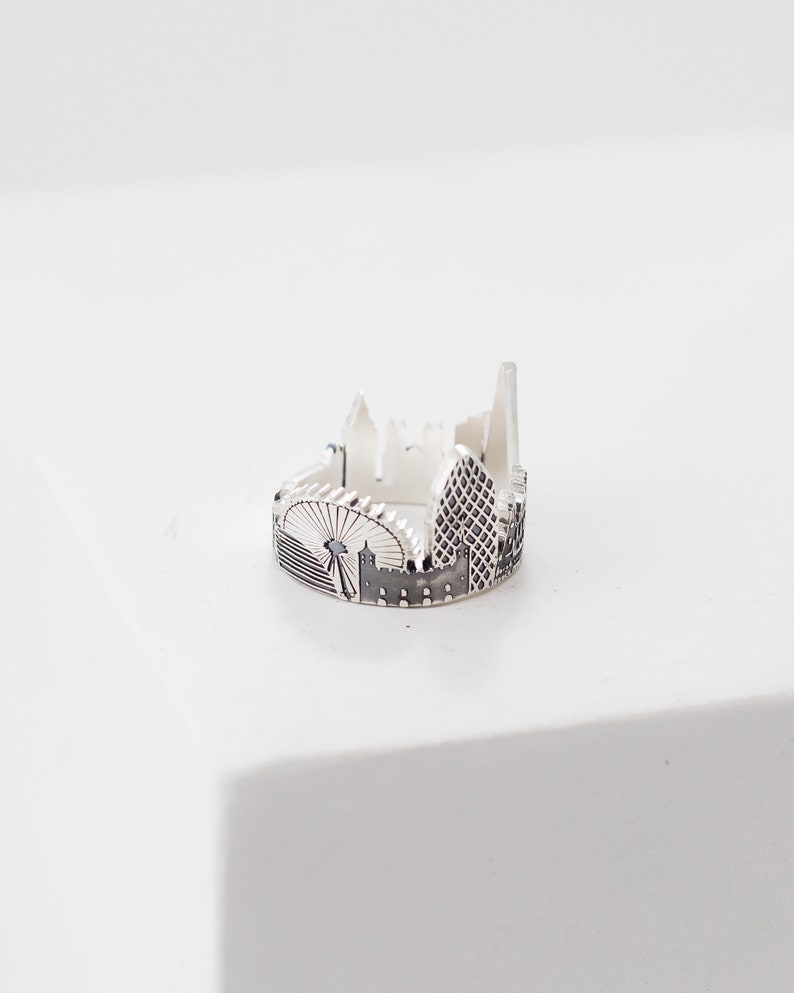 For the city and urban lover, this chunky ring is just fabulous! This travel ring feels sturdy and strong with a cityscape cut out, for the ring itself. Perfect to style as a single ring on the thumb or mid finger.
Choose your favorite cityscape as your ring inspiration. The ring is made of .925 silver and the seller is one of ETSY best sellers. You can choose from 6mm to 10mm, depending on your ring size and your city choices.
The ring ships from the United States.
We hope you enjoyed this amazing list of travel-inspired jewelry. Choose one for yourself or gift one. In doing so, you will be supporting small businesses all over the world and igniting the zest for travel and exploration! #standwithsmall
ETSY is a marketplace where sellers from all over the world showcase their handmade, vintage and unique creations for you to choose, from the comfort of your home.
Disclosure: This post contains affiliate links. If you click one of them, we may receive a small commission at no extra cost to you.
You might like:
Pin: 15 Travel-inspired Jewelry Gift Ideas