Where to stay in Vienna for first-time visitors
Planning your first trip to the stunning city of Vienna and feeling a bit overwhelmed by all the possible options? Well, you can stop stressing and start sightseeing once you've used our handy guide to pick your ideal neighborhood and accommodation. Here's the complete guide to where to stay in Vienna for first-time visitors!
Vienna is a hub of arts, culture, and cuisine delights. As the capital of Austria, the city holds many tourist attractions and landmarks, which is why so many first-time visitors arrive here each year.
Read on to find the best places to stay in Vienna for every style of traveler, as well as hotel options for each.
Where to stay in Vienna for first time visitors: Top Neighborhoods & Hotels
Disclosure: This post contains affiliate links. If you click one of them, we may receive a small commission at no extra cost to you.
For first-time visitors who want to be in the heart of Vienna and close to all the main attractions, Innere Stadt is ideal. This is the central district of Vienna and is home to many of the city's most famous sights, like St. Stephen's Cathedral and Hofburg Palace.
For a more affordable option that's still centrally located, consider staying in Josefstadt. While it's the smallest district in Vienna, it's packed with character. You'll be close to top tourist attractions like the Parliament Building and the Vienna State Opera.
If you want a truly Viennese experience, then stay in one of the city's many charming residential districts. These include areas like Alsergrund, Wieden, and Mariahilf.
Finally, if you're looking for somewhere more relaxed and outside of the city center, then consider staying in Grinzing. This is a charming wine-growing district with plenty of great restaurants and cafes.
Quick look: Top 5 luxury hotels in Vienna
If you're less fussed about where you stay in Vienna and more focused on finding the best hotels in the city, take a look at our top 5 picks for luxury accommodation.
Grand Hotel Wien
Grand Hotel Wien is, as the name suggests, quite grand. Not only does it boast panoramic views of Vienna from the rooftop terrace, but it's also close to many of the city's major attractions.
Located in a historic building, the hotel is modern and stylish with elegant finishes.
There is a range of luxury services and amenities. And together, the five on-site restaurants and two bars offer everything from coffee and cocktails to sushi and Japanese cuisine.
Ruby Sofie Hotel Vienna
A stay in the Ruby Sofie Hotel Vienna promises a splendid time in Vienna. The building that holds the hotel today used to be a concert hall, and while it looks a bit different today, it's lost none of its charms.
Besides the lavish air-conditioned rooms, the hotel features an energetic space with work areas, a library, and a 24-hour bar.
The hotel aims to offer guests a minimalist-style luxury.
Jaz in the City Vienna
This luxurious Jaz in the City hotel has a groovy music theme to it, but even if you're not a jazz enthusiast, you'll find a luxurious vacation here.
The rooms are spacious with plush beds and seating areas, while the shared lounge and rooftop bar are welcoming spaces for all guests.
The hotel offers a sauna and a fitness center. And although it's located in Mariahilf, you have easy access to many of the city's main attractions.
Zoku Vienna
As an aparthotel in the LeopoldStadt district, Zoku provides much more than spacious rooms and free WiFi. Each guest has their own private little apartment, with kitchens and office spaces.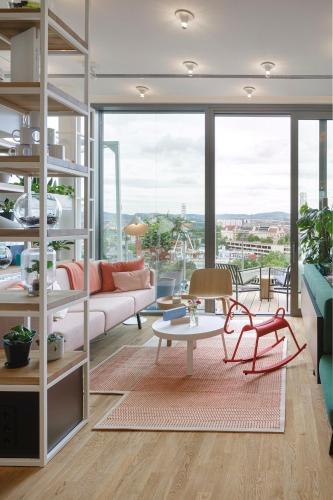 This is the perfect location for digital nomads since you get the luxury of hotel services combined with co-working spaces and independent living spaces.
There is an on-site restaurant, but you'll find the train station close by, or you can rent a bike from the 24-hour information desk and make your own way around the city.
Hotel Erzherzog Rainer
Find a true feel of authenticity at this traditional Viennese hotel in Wieden. Hotel Erzherzog Rainer was first opened in 1913 and is still going strong.
The old hotel is big, and the building has thicker walls and a homely feel. In the stylish rooms, you'll find your own minibar, flat-screen TV, and air conditioning.
Downstairs is Wiener Wirtschaft, the on-site restaurant that serves a hearty breakfast buffet and traditional Viennese dishes paired with fine Austrian wines.
Where to stay in Vienna city center & surrounds
Whether you're in Vienna for a day or plan to spend a whole week and see the entire city, there are plenty of accommodation options in the many central areas.
The city has excellent public transport, and many of the neighborhoods mentioned below are within walking distance or a short trip away from each other.
Vienna has 23 municipal districts — each is named and contains unique landmarks and attractions. Some of these districts are quieter (often those further from the city center), and others are lively all day and night long.
Innere Stadt (Inner City/Old Town): 1st District
Leopold Stadt: 2nd District
Landstrasse: 3rd District
Wieden: 4th District
Mariahilf: 6th District
Neubau: 7th District
Josefstad: 8th District
Here are some of the best districts to stay in for first-time visitors.
Vienna Innere Stadt: Stay in the heart of the Inner City
This is the first district of Vienna and, without a doubt, the most popular among first-time visitors. Innere Stadt (Inner City) is a relatively small area, but it packs a mighty big punch in terms of sights, culture, and nightlife. It is the Old Town of Vienna!
When you stay here, you will find yourself spoilt for choice when it comes to things to see and do, making it the perfect base for your city adventure.
If you want to see some of Vienna's most famous sights, then the Graben neighborhood is also the place to be.
From here, you can easily walk to St Stephen's Cathedral, Hofburg Palace, and many other iconic landmarks.
The Vienna State Opera is also just around the corner. Innere Stadt is also home to many of Vienna's best museums, including the Albertina, the Hofburg Treasury, and the Kunsthistorisches Museum.
If you're a fan of art or history, then you will be in your element here.
Note that the Central Train Station is located 15 minute ride away (in the 10th District – Favoriten), and the Vienna International Airport is 30+ minutes by taxi.
Top Hotels
The inner city has some of the most splendid Vienna hotels on offer. Here's just a handful of what you can find.
Grand Hotel Wien – As mentioned above, this is a lovely hotel to enjoy a bit of luxury and pampering. From the decor to the service, everything here screams 'grand.' Check prices for the Grand Hotel Wien
Park Hyatt Vienna – Park Hyatt Vienna is one of the luxurious hotels overlooking Am Hof square. It is housed in a 100-year-old building but is filled with modern amenities. View availability for this hotel
Steigenberger Hotel Herrenhof – A gorgeous 5 star hotel, Steigenberger is just a stone's throw away from the Hofburg Palace. The suites are in a historical building and it oozes class and luxury. Book your stay here
Austria Trend Hotel Astoria – Located just 2 minute walk away from the State Opera House, this 4 star property is in the heart of everything plus they have an on-site restaurant and lounge! Book your stay here
Hotel Capricorno – A 4 star hotel with clean and colorful rooms, Hotel Capricorno is a short walk from many Vienna attractions. It's also right on the Danube Canal, where many choose to enjoy a catamaran ride on the Twin City Liner. Find availability here
Hotel Ambassador – Book into this luxury hotel and stay in the same rooms as famous figures like Mark Twain and Marlene Dietrich. The hotel opened in 1898 and is situated on one of the inner city shopping streets, just 200m from the Karlsplatz metro station. Check availability here
Grand Ferdinand Vienna – This is a more recently opened hotel, launched in 2015. Guests can have breakfast, lunch, or dinner up at the rooftop restaurant or take a dip in the rooftop pool. Book your stay here
The Guesthouse Vienna – There is so much at this hotel that will make your stay in Vienna all the more pleasant. From the city views to the spacious rooms, and the thoughtful touches that each guest is given. Read more reviews and check photos here
Top Highlights
Even if you're not staying in the city centre, this central location has some amazing places to visit.
St Stephen's Cathedral: This is one of the most iconic buildings in Vienna and definitely worth a visit. The cathedral is located right in the heart of Vienna city center, so it's easy to reach. You can climb to the top of the south tower for some amazing views over the city.
Hofburg Palace: This has been the home of the Austrian royal family for centuries. Today, the palace is home to several museums as well as the world-famous Spanish Riding School, and it's definitely worth a visit if you're in town.
Vienna State Opera: This is one of the most famous opera houses in Europe and is certainly worth a visit, even if you're not planning on seeing a performance. The building itself is absolutely beautiful, and you can take a guided tour to learn more about its history and architecture.
Rathaus: See Vienna's spectacular city hall, which was built between 1872 and 1883. It's a magnificent example of Neo-Gothic architecture, and often there are events and markets happening here. The town hall is also home to one of Vienna's festive Christmas markets.
Neubau: Cultural center of Vienna
Nebau is one of the most popular areas to stay in Vienna, and it's easy to see why. This vibrant district is home to some of the city's best museums and galleries, as well as a lively nightlife scene.
One of the best things about Neubau is that it's within walking distance of some of Vienna's most famous sights.
The Hofburg Palace, St Stephen's Cathedral, and the Opera House are all just a short walk away, so you can easily fit in some sightseeing during your stay.
Neubau is also home to the museum quarter, which boasts many fascinating museums. This is a very convenient location for anyone seeking a cultural vacation in Vienna.
Top Hotels
Whether you want a modern hotel or a more cozy traditional accommodation, Neubau has plenty of options.
Hotel Sans Souci Wien – Sans Succi is the perfect place to stay in Vienna for those wanting to spend extended time at the nearby Museum Quarter. There's a large spa, modern rooms, and a fitness room for all guests. Book your stay here
Apollo Hotel Vienna – The Apollo Hotel is centrally located in the city and offers some pretty spectacular views over Vienna. Spend your days walking the streets and your nights watching the city lights. View availability here
Small Luxury Hotel Altstadt Vienna – This gorgeous 4 star property is a boutique hotel located just a 5-minute walk from the Museum Quarter. They are pet friendly, and they also offer free breakfast. You can hang out at their bar and lounge areas. Book your stay here
Ruby Marie Hotel Vienna – With a 24-hour bar, free guitar rental, free WiFi, and charming vintage furniture, this hotel is sure to steal your heart. It's also located on the busy shopping street, Mariahilfer Strasse. View availability here
Top Highlights
Neubau is home to numerous bars and cafes, escape rooms, and spas. There's also a handful of walking tours you can do in the district. However you decide to explore, don't miss the below stops.
MuseumsQuartier: With an area space of 90,000 m², this cultural hotspot has over 60 different places to visit. There's the Leopold Museum, a museum of architecture, the museum of modern art, a photography museum, and so much more.
St. Ulrich Church: Take a walk to this 17th-century Baroque-style church and admire the stunning architecture as well as the statues of the saints that decorate the facade.
Weghuberpark: If you feel the need for some fresh air after exploring the many museums in the Museum Quarter, stop off at this large green park. There's a fountain, large grass patches, and a few statues scattered around.
Wieden: For students & classical music lovers
Wieden is a smaller neighborhood, but you can often find more affordable accommodations and lively nightlife.
The area is often buzzing with activity thanks to the students from the technical university. Despite its smaller size, Wieden is home to some of Vienna's most iconic sights.
If you love classical music, then you will fall in love instantly with Wieden.
Top Hotels
Find everything from budget accommodation to luxury rooms and more in this small but exciting district.
Hotel Erzherzog Rainer – Found in an ancient building and a short walk from the Naschmarkt open-air market, this is (understandably) a popular hotel in Wieden. Check availability here
Hotel Kaiserhof Wien – This hotel offers guests a Viennese breakfast buffet, a spa with a steam bath, and a luxurious room to relax in at the end of each day. Check prices here
Hotel Johann Strauss – Where better to stay in Vienna than in a hotel named after the city's famous composer? This hotel offers a comfy bed and stylish room just a short walk from Karlskirche. Book your stay here
Top Highlights
This tiny district has more quiet streets than big tourist hotspots, but there are a few special places you should visit if this is where you choose to stay in Vienna.
Karlsplatz: If you stay in Vienna in December, you have to come here to see the magical Christmas market. But even during the rest of the year, this large town square is energetic and full of people.
Karlskirche: Formerly named the Rektoratskirche St. Karl Borromäus, this Baroque-style church is a prominent landmark in the Weiden district. It was built in the 18th century by Emperor Charles VI and contains some magical domae paintings.
Ehrbar Hall: This 19th-century concert hall holds a rich history of music events. From the days of Johannes Brahms and Pietro Mascagni to modern concerts, Ehrbar hall is a fascinating place to visit in the city.
Landstrasse: Vienna's gorgeous upscale district
Landstrasse is one of the most affluent areas in Vienna, and it's a prominent place to stay if you're looking for a more opulent vacation.
The district is home to the Belvedere Palace as well as a number of art galleries and historical landmarks.
Landstrasse borders the inner city and has its own piece of the Danube waterfront, making it a wonderful place to relax after a day of sightseeing.
Top Hotels
The Landstrasse district has some of the best hotels in Vienna for first time visitors. Accommodation here is luxurious and stylish, to say the least.
Ruby Sofie Hotel Vienna – This gorgeous hotel is a 16-minute drive from Vienna Airport on the ​​City Airport Train and offers all guests a digital city guide. Check prices here
Hilton Vienna Park – Breathtaking views of the city, elegant rooms, and a gym with a steam bath are just a few of the wonders found at Hilton Vienna Park hotel. View availability here
Hotel Daniel Vienna – Make your stay in Vienna an amazing experience by booking into Hotel Daniel. With rooftop beehives that help make the hotel's honey and homemade shampoo and an on-site bakery for delicious pastries, this is one of the top choices for sure. Check prices here
Top Highlights
When you're not walking to the inner city or heading to the nearest train station to explore more, be sure to discover the many delights that this district has.
Belvedere Palace: What is actually a complex of two palaces boasting magnificent Baroque architectural styles, this is a huge attraction in Vienna. Inside the stunning buildings, you will find some of Austria's most valuable art collections.
Botanical Gardens: Right next to the Belvedere Palace, this garden is 8 hectares of greenery. You can walk through and admire the 11,500+ species of plants and step into the wonder that is the tropical greenhouse.
Museum of Military History: This museum is dedicated to the Austrian Armed Forces. Whether you're a military buff or just want to see some of Vienna's history, this is a good place to start.
Kunst Haus Wien: The KunstHausWien is home to the world's only permanent exhibition of Hundertwasser's works, and it is a must-see for any art lover.
Mariahilf: Where you can shop till you drop
Mariahilf is Vienna's upmarket shopping district. This vibrant neighborhood is home to a huge range of shops, from high-end designer stores to more affordable chain stores.
The Naschmarkt is also located in Mariahilf, and this is one of the best places to eat in Vienna. This huge market is full of stalls selling fresh produce, food from all over the world, and delicious snacks to keep you going as you shop.
There are also plenty of incredible places to eat and drink in Mariahilf, so you can refuel after a day of retail therapy.
If you're looking for a more relaxed atmosphere, Mariahilf is definitely the place for you.
Top Hotels
Being more of a residential area, Mariahilf can often be more of a quiet location.
But there are some fabulous Vienna hotels here with elegant rooms and beautiful views.
Jaz in the City Vienna – Spend your stay in Vienna being immersed in the musical world at this ecclectic hotel at Jaz in the City – check availability here
Hotel Josefine – This is a luxurious accommodation with retro aesthetics, private terraces, and clawfoot bathtubs for guests to pamper themselves in. Check photos and reviews here
Hotel Beethoven Wien – Find this cultural hotel in a 5-floor 1902 Neo-Renaissance style building. It's conveniently located near this district's top attractions. Check prices here
Austria Trend Hotel Anatol Wien – Conveniently located in a quiet street, but close to the hustle and bustle of the shops and cafes nearby, the Austria Trend Hotel Anatol Wien is a great choice for solo travelers or couples! View availability here
Top Highlights
First time visitors can discover some of Vienna's less-obvious activities in this district.
Haus des Meeres: A combination of aquarium and zoo, you will find over 10,000 different species of animals. These include sea animals, reptiles, birds, and even insects.
Naschmarkt: An absolute must for first time visitors, this market is extremely popular in the city — for locals and visitors alike. There are about 120 stalls, each one offering a new smell, sight, or (most importantly) taste.
Theater an der Wien: You can't really stay in Vienna and not enjoy some of the musical performances the city is known for.
LeopoldStadt: Local favorite within walking distance to the city center
Leopold Stadt is a great location for those who want to be close to all the action but don't necessarily want to stay in the city center.
This neighborhood is located just across the Danube Canal from Innere Stadt, so it's very easy to get into the city center.
Leopold Stadt is a fabulous place for first-time visitors who want to be close to the museums and galleries. It's also within walking distance of many of Vienna's iconic landmarks and has some noteworthy luxury hotels.
This district is quite big, and you're sure to find plenty of restaurants and bars along the Danube waterfront.
Top Hotels
Some of the best hotels in the city are just across the Danube canal from Inner Stadt. These promise gorgeous views, luxury, and the ideal place to stay in Vienna.
Zoku Vienna – One of our top luxury hotels in Vienna, there isn't much that Zoku is missing in terms of top-quality accommodation in the city. Read detailed reviews here
BASSENA Wien Messe Prater – A more modern hotel, the theme here is bright, colorful, and welcoming. This hotel provides the perfect space to enjoy some of Vienna's nightlife and easily make your way back to your room. Check prices here
Der Wilhelmshof – This hotel is found on a quiet street but it's a short walk to the big wheel aka Riesenrad Ferris Wheel and the district's busy subway station. The hotel is pet friendly and with a lot of the staff speaking English, this is a great place for English foreigners to stay in Vienna. Check availability here
Motel One Wien-Prater – Motel One Wien-Prater is an affordable no-frills property, located very close to the Ferris Wheel. It is located by an S Bahn station, making it easy to connect to the centre (or elsewhere in the city). Check prices here
Top Highlights
Leopold Stadt offers a convenient location, access to public transport, and the district's own list of must-see spots.
This includes a golf course, beach bars, and cafes, and an amusement park. It's ideal for first-time visitors.
Viennese Giant Ferris Wheel: This massive wheel is part of the district's Prater amusement park but it's one of the most popular attractions all on its own. Why not take a ride and enjoy the mesmerizing views of the city from above?
Madame Tussauds Vienna: Located within the amusement park, Wiener Prater, this tourist attraction is a fun stop while exploring. You'll find wax figures of Hollywood celebrities, artists and composers, and even important Austrian sports figures.
Wien Museum Johann Strauß Apartment: As the composer of Austria's "unofficial anthem," Johann Strauss deserves his own museum. This small house is where the composer lived in the 1860s and 1870s. It's now a museum that contains manuscripts, pictures, and personal items from Strauss' life.
Josefstadt: Budget-friendly accommodation
For those wanting to save some money on accommodation, Josefstadt is an ideal option. It's not exactly cheap, but it is more affordable than the inner city itself.
Josefstadt borders the museum district and is close to many of the city's top sights. It's a great option for those who want to be close to all the action but don't necessarily want to stay in the heart of the city.
Even though Josefstadt is small, it's densely populated and packed with shops, restaurants, and nightlife venues. There are plenty of outstanding eateries and bars in Josefstadt, so you'll definitely find something to suit your taste here.
Also, if you're looking for some nightlife, this is definitely the best place to stay in Vienna.
Top Hotels
Need a budget hotel? Or perhaps something that feels a bit more like a home away from home?
Josefstadt has some of the best hotels for all kinds of travelers.
Flemings Selection Hotel Wien-City – Stay in Vienna while enjoying the central location of this hotel. Right behind the city hall, this accommodation has a spa, air conditioning, and deluxe bathrooms with glass and granite finishings. Check prices here
Pension Lehrerhaus – Located in the same building as Vienna's English Theater, this hotel is perfect for those who want to escape the excitement at the end of the day. Check prices here
Hotel Graf Stadion – The cool thing about this hotel is that it's an eco-friendly accommodation, in a protected historical building, with a lift that has been in operation since 1913. It also offers guests their own flat screen satellite TV and they can enjoy a delicious breakfast buffet downstairs. Click to view availability here
Top Highlights
This district is smaller, quieter, and less tourist-centered than the others. So rather than big-ticket attractions, you'll find historic buildings and local cafes.
Vienna's English Theater: Enjoy a range of English performances at this theater that's been around since 1963. Book a show, enjoy a drink at the theater's bar, admire the delightful interior, and be sure to stop at the nearby Cafe Eiles for a coffee before or after the show.
Church of the Piarist Order: This church is so beautiful that it was chosen as a location for a scene from Almost Angels, a Disney film. Visitors can come here to take photos and relax in the plaza outside.
Alserkirche: This is another glorious church that stands out in photographs. But it's also significant for being the place where Ludwig Van Beethoven's funeral was held.
First-time visitors: Final thoughts on where to stay in Vienna
While there are several other areas to stay in Vienna, your first visit should be effortless and convenient.
Luckily, there are quite a few central districts where you can stay in Vienna and find some of the best hotels and attractions.
Having easy access to public transport and a handful of major attractions within walking distance will ensure you have a great time in the city.
If you fall in love with Vienna — as most people do — there are fantastic day trips from the city as well.
Have you visited Vienna before? Where did you decide to stay? We'd love to hear your thoughts on the best places to stay in Vienna for a first-time visit.
More Vienna Austria travel guides:
Pin: Where to stay in Vienna first time visitor guide