11 Epic Places for Glamping in Iceland
Are you an adventure seeker who loves nature but still wants a touch of luxury? Then you'll love glamping in Iceland! This incredible country boasts some of the most stunning landscapes in the world, including glaciers, volcanoes, hot springs, and waterfalls.
Glamping offers a unique way to experience Iceland's natural beauty while enjoying the comforts of a hotel. In this blog post, we'll introduce you to some of the best glamping spots in Iceland, along with tips and advice for planning your trip.
Glamping in Iceland | Glam-camping under the northern lights
Disclosure: This post contains affiliate links. If you click one of them, we may receive a small commission at no extra cost to you.
Iceland glamping options: At a glance
Top Iceland Glamping Pick
Don't have time to read the whole article? No problem!
Golden Circle Glamping is the finest option, offering a luxurious experience amidst Iceland's stunning nature. You can stay at a deluxe dome with beautiful decor, comfortable beds, a fully equipped kitchen, a private bathroom, and a cozy living area. Plus you get to sleep in, under the starry skies!
So you've tried hotels and Airbnbs in Iceland but want something closer to nature (without giving up warm blankets and heating facilities)? Glamping is the best option.
There are several glamping sites located throughout Iceland, from remote areas in the countryside to more populated spots near cities and towns. Some of the most popular destinations are located near popular tourist attractions, such as the Golden Circle and the South Coast.
Here's a quick breakdown of the top Icelandic Glamping spots:
11 Best Iceland Glamping Tents & Unique Accommodation
Looking to immerse yourself in the beauty of Icelandic nature without compromising on comfort? You should try glamorous camping, or GLAMPING, for an unforgettable experience.
Skip the hassle of carrying heavy camping gear, and indulge in the luxury of well-appointed tents, yurts, unusual hotels, and domes. Get ready to awaken your adventurous spirit and connect with nature in style with these great glamping grounds.
Read Next: 10-Day Iceland Itinerary
1. Golden Circle Domes
Location: Selfoss
Sleeps: 4
Golden Circle Glamping offers a unique and luxurious experience amidst Iceland's stunning nature. Stay in a private deluxe dome with beautiful and tasteful decor, comfortable beds, a fully equipped kitchen, a private bathroom, and a cozy living area.
Wake up to stunning views and enjoy the warmth of a real log fire in the snug bedroom. The loft space provides a second double bed with a skylight to gaze at the stars. And there's free wifi to share the sights with your friends and family back home.
The kitchenette and dining area give you the perfect space to prepare meals and enjoy your creations. The smartest bathroom suite is all yours, with a standalone shower, WC, and washbasin, ensuring a private and welcoming space to freshen up.
2. Camp Boutique – Original North
Location: Húsavík
Sleeps: 2 and 4
Camp Boutique Original North is a true gem for adventurers needing just a bit more of a luxurious experience in Iceland's stunning North. Imagine waking up to breathtaking panoramic views of mountains and a tranquil lake from your cozy and beautifully furnished tent.
Bask in the natural beauty while soaking in the hot tub or gather around the fire pit with new friends.
The Double and Deluxe spacious tents at Original North are the epitome of luxurious glamping in Iceland's breathtaking wilderness. The tents are beautifully designed with comfortable beds, stylish furnishings, and large windows offering panoramic views of the surrounding mountains and nearby lakes.
These tents offer the perfect blend of rustic charm and modern amenities for a truly magical and unforgettable Icelandic adventure.
3. Náttúra Yurtel
Location: Haukadalur
Sleeps: 2; 3; and 4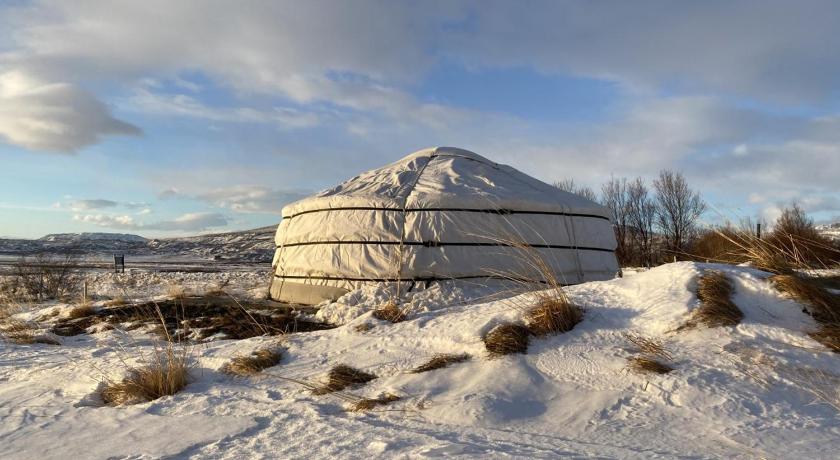 Náttúra Yurtel is a true paradise for nature enthusiasts and those wanting a sustainable and luxurious experience in Iceland. Wake up to stunning views of the surrounding mountains and nearby lake, and enjoy the warmth of a cozy fireplace in your private yurt.
Immerse yourself in nature and breathe in the fresh air while hiking, fishing, or horseback riding. Relax and unwind in the hot tub or gather with other guests in the communal kitchen and BBQ area.
You can book family rooms, and take advantage of a continental or buffet breakfast at this Mongolian yurt!
Náttúra Yurtel is not just a place to stay; it's a place to connect with nature, yourself, and others.
4. Camp Boutique
Location: Gaulverjabær – about 74 km (46 miles) from Reykjavik Airport
Sleeps: 2 and 4
Camp Boutique in Iceland sits on the bank of the Skjálfandafljót River and combines luxury and nature in the best way. Tucked away in the stunning Icelandic countryside, this boutique glamping site offers stylishly decorated tents with comfortable beds and cozy furnishings.
Wake up to breathtaking views of the surrounding landscape, and enjoy a cup of coffee on your private terrace. Unwind in the hot tub, gather around the fire pit with fellow guests, or explore the nearby natural wonders.
Whether you're seeking a romantic getaway or a family adventure, Camp Boutique provides a magical and sustainable vacation that will leave you with unforgettable memories.
5. Valhalla Yurts Odin
Location: Selfoss
Sleeps: 2
Nestled in the heart of the Icelandic countryside and near the Thingvellir National Park, Valhalla Yurts is a hidden treasure that will take your breath away. This gorgeous glamping site offers a luxurious and sustainable escape that combines nature and comfort in an awe-inspiring way.
Each yurt is decorated with a stylish Nordic-inspired theme that will transport you to a world of cozy luxury. With comfortable beds, plush furnishings, and breathtaking views, you'll feel right at home in this picturesque retreat.
You can relax in the outdoor hot tub, roast marshmallows around the fire pit, or explore the nearby hiking trails and natural wonders. PS. The Kerid Crater is just down the road and is an absolute gem worth visiting.
They also offer continental breakfast and free parking on-site. When you book a luxury tent option you get towels and a bed linen package.
Valhalla Yurts is the ultimate destination for an authentic Icelandic glamping experience that will leave you feeling rejuvenated and inspired.
6. Fossatún Camping Pods & Cottages | Sleeping Bag Accommodation
Location: Fossatún
Sleeps: 2; 3; and 4
Fossatún Camping Pods is the ultimate destination for a natural yet comfortable and glamorous camping experience in Iceland.
Situated in the West Iceland Region amidst stunning mountains and valleys, these cozy wooden camping pods are designed to offer a comfortable stay. With modern amenities like heating, Wi-Fi, and power outlets, you'll be able to stay connected while enjoying the tranquility of the great outdoors.
Each pod features stylish furnishings, comfortable beds, and panoramic views of the surrounding landscape. You can relax in the shared outdoor hot tubs, cook meals in the fully equipped kitchen, or explore the nearby hiking trails and waterfalls.
Plus free private parking is available on site!
7. Iceland Yurt
Location: Akureyri, North Iceland Region
Sleeps: 2 and 3
Iceland Yurt is an enchanting glamping site in the heart of Iceland's awe-inspiring natural beauty. Experience the perfect blend of rustic charm and modern comfort in one of their beautifully designed and fully equipped yurts.
The site offers breathtaking views of the Hlidarfjall mountains and is the perfect place to disconnect from the world and reconnect with nature. Relax in the communal hot tub while gazing at the stars, or gather around the fire pit with fellow guests to swap stories while roasting marshmallows.
With nearby activities like hiking, horseback riding, and exploring local waterfalls, Iceland Yurt offers a truly unforgettable getaway.
8. Reykjavik Domes
Location: Reykjavík
Sleeps: 2 and 4
Tucked away in a secluded and serene location, Reykjavik Domes offer a luxurious and unforgettable experience for travelers seeking something truly special.
Each dome is equipped with a comfortable double bed, luxurious linen, and cozy furnishings, making it the perfect place to unwind and relax after a day of exploring Reykjavik. The transparent walls provide stunning views of the surrounding nature but still offer privacy and comfort.
In addition to the comfortable sleeping arrangements, the domes also provide a private bathroom with a shower and a small kitchenette equipped with a mini-fridge, coffee maker, and tea kettle. You can also enjoy the on-site restaurant and bar, with a wide selection of local cuisine and drinks.
9. Volcano Huts Þórsmörk
Location: Thorsmork Nature Reserve
Sleeps: 2 and 4
Nestled in the heart of the stunning Icelandic Highlands, the Volcano Huts in Thorsmork offer an unparalleled experience in a remote location. Surrounded by rugged mountain peaks and glaciers, these cozy huts offer the perfect respite after a day of exploring.
Each hut is thoughtfully designed with comfort in mind, featuring warm, comfortable beds and a wood-burning stove for those chilly nights. If that's not enough, the area's volcanic landscapes, winding rivers, and lush valleys will keep you mesmerized for hours.
Take a relaxing soak in the nearby hot tub or enjoy a meal in the on-site restaurant, which offers traditional Icelandic dishes made with locally sourced ingredients.
The Volcano Huts in Thorsmork are the perfect base for exploring one of Iceland's most spectacular regions. When booking a spot, consider looking at special packages that offer a comfortable bed with shared bathroom facilities.
10. Glamping and Camping
Location: Vestmannaeyjar
Sleeps: 2
Escape the ordinary and indulge in an unforgettable adventure with Glamping and Camping in Iceland. Immerse yourself in the lush valley of Herjólfsdalur, all while, all while enjoying the comfort of luxury tents, cabins, and cottages.
Picture waking up to panoramic views of the Icelandic wilderness, sipping your morning coffee on your private deck, or gathering around the campfire for a cozy evening under the stars. This destination has it all, from hiking and horseback riding to whale watching and glacier exploration.
The glamping site offers a shared kitchen, a laundry machine and clothes dryer. Plus each guesthouse has a seating area for you to chill out!
Glamping and Camping in Iceland promise to be a once-in-a-lifetime experience that will leave you feeling refreshed, inspired, and connected to the wonders of nature.
11. Buubble Hotel
Location: South Coast
Sleeps: 2
Buubble is more than just a place to sleep – it's an immersive experience that will take your breath away.
Nestled in the midst of Iceland's stunning countryside, this glamping destination offers an opportunity to fully embrace the beauty of nature. While still enjoying the comfort of a warm and cozy bubble.
With a clear dome above your bed, you can stargaze and watch the Northern Lights dance across the sky without ever having to leave your accommodation. Fall asleep to the soft scenes of the Aurora Borealis.
In the morning, enjoy a fresh cup of coffee while listening to the sounds of nearby wildlife. Then set out to explore the mesmerizing waterfalls, glaciers, and beaches that make this region so unique.
Read Next: Best Iceland South Coast Tours
Icelandic glamping tips and advice
Here are just a few Iceland travel tips for any glamping trip.
Book in advance: Iceland is a popular travel destination, and glamping sites can fill up quickly, especially during peak travel season. To avoid disappointment, be sure to book your accommodations well in advance.
Bring a camera: Iceland's landscapes are breathtakingly beautiful, and you'll want to capture those memories. Bring a camera or smartphone with a good camera to capture those mesmerizing moments.
Try local food: There is something tantalizing about authentic Icelandic cuisine, so don't miss the opportunity to try some local dishes. Some must-try Icelandic foods include Skyr (a type of yogurt), fermented shark, and lamb dishes.
Learn about the culture: Iceland has a rich history and culture, so take some time to learn about it. Visit museums and galleries, attend cultural events, and talk to locals to gain a deeper understanding of the country and its people.
Take advantage of the natural hot springs: Iceland is famous for its natural hot springs, which offer a relaxing and rejuvenating experience. Be sure to visit one or two during your trip, such as the Blue Lagoon, Myvatn Nature Baths, or Secret Lagoon.
Be prepared for the weather: Iceland's weather can be unpredictable, so be sure to pack accordingly. Bring warm layers, waterproof gear, and sturdy shoes to stay comfortable and dry.
Follow the rules and regulations: Iceland is known for its strict environmental regulations, so be sure to follow the rules and regulations, such as staying on designated trails and disposing of waste properly.
Read: Iceland itinerary 7 days
Glamping Iceland vacation
Glamping in Iceland will take you to unusual places and give you an escape combining adventure and luxury in one package. It's definitely something to add to your Iceland bucket list.
One of the biggest draws of glamping in Iceland is the stunning natural scenery. From snow-capped mountains and glaciers to every black sand beach and geothermal pool, Iceland's landscapes are truly awe-inspiring.
Overall, glamping in Iceland offers a unique and comfortable way to see the country's natural beauty and outdoor adventures. Whether you're looking for a cozy cabin in the West Iceland Region or a luxury dome with all the amenities, there's a glamping site in Iceland to suit your needs and budget.
Check out our Iceland travel guides:
Pin: Iceland Glamping Guide: Top Great Glamping Sites