Prague Vienna Budapest Itinerary 10 days: Central Europe
One of the most affordable, and culturally intriguing destinations is in Central Europe. In this Prague Vienna Budapest itinerary 10 days, we will share how you can make the most of your visit exploring cities with rich history, stunning architecture, medieval town squares, traditions, and culinary delights.
Prague Vienna Budapest Itinerary 10 days + Tips for 12 days in Central Europe
Disclosure: This post contains affiliate links. If you click one of them, we may receive a small commission at no extra cost to you.
Here is a quick snapshot of Prague Vienna Budapest itinerary 10 to 12 days (optional)
Day 1: Arrive in Prague. Stay in Prague here
Day 2: Explore Prague city highlights
Day 3: Take a day trip from Prague to Kutna Hora or Cesky Krumlov
Day 4: Arrive in Vienna. Book your stay here
Day 5: Explore Vienna
Day 6: Take a day trip to Wachau Valley from Vienna
Day 7: Head to Salzburg, stay here for the night
Day 8: Salzburg sightseeing and walking tour
Day 9: Arrive in Budapest, explore the main highlights. Stay in Budapest
Day 10: Explore more of Budapest, ruin bars, UNESCO sites.
Optional Day 11: Head to Bratislava. Stay in Bratislava for the night or return to Budapest on a day tour
Optional Day 12: Return
Prague, Vienna, Budapest itinerary 7 days
If you only have 7 days in Central Europe, consider the following itinerary,
Day 1: Arrive in Prague. Stay in Prague here
Day 2: Explore Prague city highlights
Day 3: Arrive in Vienna. Book your stay here
Day 4: Explore Vienna
Day 5: Take a day trip to Wachau Valley from Vienna (you can skip this if pressed for time)
Day 6: Arrive in Budapest, explore the main highlights. Stay in Budapest
Day 7: Explore more of Budapest, ruin bars, UNESCO sites.
OR – 7 day Central Europe itinerary
Prague, Vienna, Budapest Map
Planning a trip to Central Europe
Arriving in Prague or Central Europe:
Prague is served by the Václav Havel International Airport. Connecting flights are available from the USA and Canada, connecting either via UK or Germany, depending on your departure city.
From the airport, you can reach the city centre in about 40 minutes by train. We found a taxi or cab to be pretty affordable for two. The average price of a taxi ride from Prague airport to the city centre of Prague is about 694 CZK (or 27€).
Budapest is also a good option to fly into. If that is what you prefer, then you can use this itinerary in descending order (starting with Budapest). Both Prague and Budapest are pretty affordable for food, hotels, and transport (trains and cabs).
In this guide, you will find travel tips from visas to packing lists at the end of the itinerary. We have included walking, food and day tours which are pocket friendly, and conducted by local guides in each city, as well.
Don't wish to do all the planning? Prefer a vacation package? Check out these Prague Vienna Budapest trips with a tour director.
Day 1 of Prague Vienna Budapest itinerary: Arrive in Prague
The capital city of Czech Republic – Prague, is home to centuries old castles, cathedrals, bridges, showstopper squares and a charming river. It is a history and culture lover's paradise, from medieval buildings to understanding the remnants of the Communist, and later the Cold War period.
Arrive in Prague on day one of the Central Europe itinerary, and check in to your hotel.
For a short visit to Prague, we recommend staying in and around the city centre/old town district. Old Town / Staré Město (Prague 1) is home to all the prime attractions and you can walk to these sites, but restaurants and transportation are within walking distance too. Book your stay at the Mandarin Oriental Hotel.
The area near Prague Castle is also popular. If you book hotels with a view, you can walk up to the Old Town sights from your suite. Recommendation: Prague Well
If you prefer staying away from the centre, then Hotel International is a good option. You can easily connect to the old town from here via public transportation.
Kick start your Prague itinerary by wandering the old town and checking out the iconic landmarks such as the Charles Bridge, Astronomical Clock, and ending the day with a tour of your choice.
UNESCO site of Old Town Prague
Pague is known as the 'city of thousand spires' and its old town is recognized as a UNESCO site. The Vltava river flows through the medieval town.
At the old town square, explore the Church of Our Lady in front of Tyn, the Old Town Hall and the Baroque church of St Nicholas, and more.
Astronomical Clock Tower
The astronomical clock is a popular attraction in Prague. The clock showcases a musical show every hour, called the "walk of the Apostles". This spot is usually very crowded, and you have to be patient to click a crowd-free photograph.
It is the third oldest astronomical clock, and dates back to 1410.
Although the attraction is free to view, and watch the musical show, you have to pay an entry fee to visit the tower interiors.
As you wander the old town, don't forget to eat chimney cake or Trdelnik and go for some souvenir shopping.
Charles Bridge
You cannot miss the Charles Bridge in Prague. It was built by King Charles IV over the Vltava river.
The Charles Bridge was the most important transport connection between Prague Castle and the city's Old Town and adjacent areas. The bridge is decorated with 30 statues and figurines. The original statues were designed in baroque-style and are now replaced by replicas.
The main bridge is protected by three bridge towers, two of them are located on the Lesser Quarter side and one on the Old Town side, which is the Old Town Bridge Tower.
Tours for the evening
Charles Bridge is constructed over the Vltava River. For your activities in the evening, you can enjoy an evening one-hour tour over the Vltava river.
You may also like this: Another tour with sightseeing and cruise over the Vltava.
If you prefer something spooky then opt for the Ghost and Legends of the Old Town Evening Walking Tour. This is a 1.50 hour tour, and it is filled with mysterious and intriguing stories and secrets of the city of Prague.
In this tour, you will wander through dark 'spooky' alleys and listen to horror stories of the past – from murders, monsters, to spirits. You can book this Ghosts and Spirits tour here
After the tour, finish the night with a dinner of goulash!
Day 2 of Prague Vienna Budapest itinerary: More of Prague
Start day 2 of Prague, Vienna and Budapest itinerary with Prague Castle, and the modern historical landmarks.
Prague Castle Complex
From your centrally located hotel, head to the Prague Castle and plan to spend 2-4 hours there.
Prague Castle is the world's oldest castle, and it is also a living castle. The Czech President actually resides here. Explore the marvels of Prague Castle district in a 3 hour guided tour – book it here.
The Prague Castle has a very intriguing past. Stories of traitors being thrown out of the castle windows (the word "defenestration" originated after this incident), jewel crowns stolen, churches named after dancing saints and the list goes on.
At the Prague Castle complex, do check out the following,
Mihulka Powder Tower (Prašná věž Mihulka): This is the Power Tower located in Prague Castle, originally used as a gunpowder storage room. The viewing gallery of the powder tower offers mesmerizing views over the city of Prague.
St Vitus Cathedral: St Vitus Cathedral is a Roman Catholic church located at the complex. The church was constructed in Gothic style, and the interiors, including the altar are gorgeous.
Golden Lane: There is a cute small lane located near the Castle, called the Golden lane. House 22 here belongs to Franz Kafka. This is where he lived there with his sister for many years, by Prague Castle.
Views from Prague Castle are wonderful, and you can capture the beautiful Vltava and Charles Bridge from here. There are vineyards located near the Castle.
From the Castle complex, head back to the old town to take a guided tour of the Jewish Quarters.
Jewish Quarters – Old New Synagogue
One of the oldest living Jewish synagogues is located in Prague. The Old New Synagogue in Prague dates back to the 13th century, and it has gone through so much history, fires and destruction.
The synagogue still stands strong, and is a testimony to Jewish contributions to Prague.
In the Jewish Quarters, you will find six synagogues including the Old New Synagogue and an old Jewish cemetery. It is worth taking the time to visit them. Here is an entry ticket as well as a guided tour of the Jewish Quarters in Old Town.
In the late afternoon, head to Letna Park.
Letna Park
Letna Park is a beautiful park located on a hill called Letna and it offers amazing views over Prague Old Town, along with the Vltava river. It is a steep hike to access the park, but it is all worth it.
You can also visit the "Hanavský Pavilion", which is an exhibition hall.
If you have wish to swap a climb to the Letna Park or something else, then here are a few recommendations,
State Opera House: Prague's State Opera House was constructed in the 19th century. This opera house was called the German Theatre previously, and today it is home to 300 performances a year.
John Lennon Wall: The John Lennon Wall is increasingly becoming a popular tourist spot in Prague. Prior to the death of John Lennon, it was a normal wall. When John Lennon died, the youth of Prague grieved his passing by pouring their heart out on this wall.
Wenceslas Square: Wenceslas Square is part of the New Town Prague area created by Charles IV in the 14th century. This square was the originating point of the Velvet Revolution and currently, it is home to the National Museum.
Dancing House: The Dancing House is a modern structure in Prague, and it is quite a hit with Instagrammers. The house is used as an office building, offering views of the Vltava River and Prague Castle.
For dinner today, opt for a traditional Czech dinner of goulash, homemade bread or dumplings, beer, or wine at Czech Slovak Restaurant Lounge Bar.
Day 3 of Prague Vienna and Budapest Itinerary: Day trip to Cesky Krumlov
On day 3, venture outside of Prague to the fairytale town of Český Krumlov.
Cesky Krumlov is a UNESCO heritage-listed town located in southern Bohemia in the Czech Republic. This stunning town is bisected by the Vltava River, and is dominated by a landmark 13th-century castle.
You can take the train, or book a full day trip to Cesky Krumluv with lunch.
On a day trip, do check out the castle which has pretty Gothic, Renaissance, and Baroque elements, and the 17th-century baroque theater.
Alternative option is to explore Kutna Hora for a half day trip. Kutna Hora is located an hour away from Prague and is home to two UNESCO heritage sites – St Barbara's Church and the Cathedral of Our Lady at Sedlec.
Kutná Hora Bone Church is popular with visitors. This church is made up of 40,000 bones and has bone chandeliers inside too. Book your day tour to Kutna Hora here
Day 4 Vienna Prague Budapest Itinerary: Arrive in Vienna Austria
From Prague make your way to Vienna, the capital city of Austria. If you are driving, it will take you about 3.50 hours by road, and trains take a little over 4+ hours. You can also get on an overnight night.
Trains leave at 10:30 pm from Prague, and arrive in Vienna by 06:40 am in the morning, so you will have the full day to explore (and also save on accommodation on day 3).
Where to stay in Vienna?
We recommend the inner city for your accommodation in Vienna.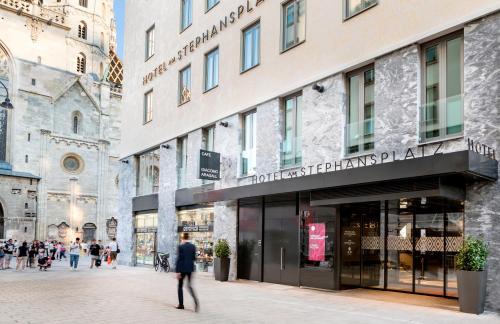 Boutique Hotel am Stephansplatz is a 4 star boutique hotel in the heart of the city. All old town attractions are within walking distance from here. Book your stay here
Singerstrasse21/25 is a fuss-free hotel, located in the central district of Vienna and offering views of St Stephen's Cathedral. Book your stay here
If you prefer staying a little outside of the center, choose the Trend Austria Hotel. This location is also good, and you can access the old town via the Rathaus Underground Station (public transportation). Book your stay here
Once you arrive in Vienna head straight to the inner city. Check in to your hotel, grab coffee and breakfast. After breakfast, start your sightseeing in Vienna!
The Hofburg Palace
The Hofburg Palace was the imperial seat of the Hapsburg Dynasty in Austria. It served as the prime residence for Empress Maria Theresa, Emperor Franz II, and, for a while, even the German Emperor.
The complex is spread over 59 acres and comprises 18 groups of buildings, close to 20 courtyards, and around 2600 rooms. The outside of the palace is as beautiful as the inside.
Heldenplatz is a public space located in front of the Hofburg Palace. This square was set up as a Heroes Square.
St Stephen's Cathedral
St Stephen's Cathedral is one of Vienna's most iconic landmarks. The cathedral has stood the test of time, and has watched over the city for more than 300 years.The cathedral is decorated with Baroque altarpieces in the name of St. Stephen, the first martyr of Christendom.
For lunch or evening snack (depending on the time of time), hit the Graben Vienna. It is an upscale and trendy shopping street, and you will find cafes and restaurants for a meal.
Prater amusement park
End the night with a ferris wheel ride at the Wiener Riesenrad, or Riesenrad. It is one of Vienna's most popular tourist attractions and is quite iconic to the city and the district.
Day 5 Vienna Prague Budapest Itinerary: More of Vienna
Day two of Vienna Itinerary is all about palaces – Schonbrunn and the Belvedere Palaces.
Schonbrunn Palace
Schonbrunn Palace is one of Europe's finest palaces, and also a UNESCO World Heritage Site. It was constructed in the early 18th century, in yellow-color highlighting the time of the preference of the Queen of the Hapsburg dynasty.
You can book a guided tour of the Schonbrunn Palace complex. This tour takes you to the palace and allows you free time at the gardens. This palace is massive with over 1440 rooms!
Belvedere Palace
After the Schönbrunn Palace, head to the Belvedere Palace.
Belvedere Palace comprises two Baroque palaces – the Orangery and the Palace Stables, which is set on an expansive Baroque park on the south-eastern edge of its centre. The palaces date back to the 18th century. Get a tour of the Belvedere Palace
Alternate option: If you only wish to pick one palace, we recommend the Schonbrunn Palace. And in the afternoon you can join a food tour. This tour is for 3 hours, and starts at 2:30 pm. Once you pick the date, you will see options for timing and a meeting point.
Vienna State Opera & dinner
For the evening and dinner, visit the Wiener Staatsoper or the Vienna State Opera. The Vienna State Opera is particularly unique as it caters to children's performances.
You can enjoy a concert with dinner at the Vienna Opera House.
More options: Prefer a Mozart Concert, with dinner and a romantic carriage ride, this is a ticket/tour to consider.
Day 6 Vienna Prague Budapest Itinerary: Day trip to Wachau Valley
On day 6 of the itinerary, head to the lower Danube Valley. Wachau Valley is known for its vineyards, ancient ruins, Benedictine Abbey, and the mesmerizing Danube River.
Travel time is 1.50 hours by road or train. You can also book a full day tour with round transportation. Here is a day tour to the Wachau Valley from Vienna
In Wachau Valley, visit a vineyard and go wine tasting. Learn more about the wine tours here
In terms of attractions, Benedictine and the Melk Abbeys and the ancient ruins in Melk and Dürnstein are a must visit.
Alternate Option: Book a day trip to Bratislava from Vienna, and check off another Central European destination.
Day 7 Vienna Prague Budapest Itinerary: Arrive in Salzburg
Salzburg is also a day trip option from Vienna, but we recommend staying there for a night or two and enjoy the city.
If you are driving it will take you 3 – 4 hours, trains take about 2.50 hours. The train station is located very close to the old town, so once you arrive check into your hotel, and then get ready to explore.
Where to stay in Salzburg?
Star Inn Hotel Premium Salzburg Gablerbräu, by Quality, is a good value accommodation located close to the Altstadt. Check out pictures here
Radisson Blu Hotel Altstadt, Salzburg is another great option. It is a 5 star property housed in a building dating to the 14th century. Check prices here
On day one of the Salzburg itinerary, check off a few quick and easy attractions in old town.
Mozart Square & Mozart House no 9
Visit the Mozart Square, where the statue of the composer – Mozart, is located. Mozart was born in Salzburg and this statue is dedicated to him and work. In and around the square, you will find souvenir stores, the Salzburg information center, and other shops.
If interested you can visit the Mozart house (House no 9), located a few blocks away. The house contains Mozart's personal items, and history and information about his life.
Cruise and Hellbrunn Palace Visit
In the afternoon you can enjoy a sightseeing cruise ride on the Salzach River, and visit the Hellbrunn Palace. This entire tour is 2.50 hours, and will allow you to check off both in the afternoon.
You can check out the tour here.
Hellbrunn Palace is a Baroque villa, dating back to the early 17th century. It was built by Markus Sittikus von Hohenems, who was the Prince-Archbishop of Salzburg.
In the evening, enjoy a nice stroll at the Getreidegasse. Imagine this lane at Christmas time – it looks beautiful and decorations and festive cheer in the air.
Day 8 Vienna Prague Budapest Itinerary: Salzburg Austria
Salzburg is not only home to medieval buildings and all things pretty, but it is also surrounded by stunning landscapes and the Alps.
Sound of Music Tour
Popular movie 'Sound of Music' was shot in Salzburg, and you can experience the same magic live, by touring the movie locations.
From epic locations to capture the best Instagrammable shots, you will love this tour. Here is the recommended 4 hour Original Sound of Music Tour
If the Sound of Music tour is not your thing, then visit the beautiful Mirabell Gardens instead.
Mirabell Gardens
Part of the music scenes of the movie were shot at the Mirabell Gardens, and they are a part of the Mirabell Palace complex. The spot is a part of the Historic Centre of the City of Salzburg UNESCO World Heritage Site.
In the old town of Salzburg, you must also check out the Salzburg Cathedral, and other historical sites.
Recommended: 2 hour walking tour of Old Town with access to Mirabell Gardens.
Hohensalzburg Fortress
Hohensalzburg Fortress is the iconic landmark of Salzburg. It was built by an archbishop to protect the city from enemies in the 11th century.
Located atop the Festungsberg, you can take a funicular to reach the top of the fortress or hike to the top. Hohensalzburg is the largest medieval castle in Europe.
The complex is home to museums, chapels, and amazing city views from the top.
Read: Our 2 day Salzburg itinerary
Day 9 Budapest Vienna Prague Itinerary: Arrive in Budapest
From Austria head to the capital city of Hungary – Budapest. You are left with 1.50 day to take in the city highlights.
Salzburg to Budapest is 5.50 hours by train, and by road/car.
Where to stay in Budapest?
Danubius Hotel Astoria is a beautiful hotel located in the Budapest city centre. It has stunning suites, and there is also a pool onsite. Sightseeing attractions and transport connections are easy from here. Check out more photos here.
Another option is to stay at a mid budget iBis Style Hotel. It is a straightforward hotel, offering free wifi and breakfast, and cute drawings in the rooms!
Széchenyi Thermal Bath
After checking in to your hotel, head to the Széchenyi Thermal Bath. Budapest is known for its thermal waters. These baths have medicinal properties, and they promote health and wellness. Get your 1 day pass to the Széchenyi thermal bath here
Other thermal baths in Budapest include: Gellért Thermal Baths, Rudas Thermal Baths
Danube Sightseeing Cruise
After a relaxing bath, enjoy a dinner cruise on the Danube River.
In this tour, you will also get the opportunity to see all of the Budapest city attractions under the moonlight. We particularly enjoyed capturing the incredible Parliament building of Hungary and the Szechenyi Chain bridge at night.
This is a great way to 'see' the city when you are pressed for time.
Dinner cruises are for 2.50 hours. The cost of dinner cruises starts at 55 Euros or about 70 USD. Book your Danube dinner cruise here
Read about our Danube Dinner Cruise Experience and our 2 day Budapest itinerary
Day 10 Budapest Vienna Prague Itinerary: Budapest Hungary
On your final day in 10 day Budapest Vienna and Prague itinerary will be jam packed with activities.
Hungarian Parliament
In the morning, take a trip to the Hungarian Parliament, which is one of the stunning and iconic landmarks of Budapest.
Guided tours are available as well. If you are not interested in any tours, admire the beautiful building from the outside. Tons of photo opportunities here.
Dohány Street Synagogue & Ruin Bars
Next visit the Jewish Synagogue – Dohány Street Synagogue. It is the largest Jewish house of worship in the world. Also known as the Great Synagogue (or Tabakgasse Synagogue).
To make the most of your day, we highly recommend taking a walking tour that covers the synagogue, takes you to a ruin bar, and provides you with a history of the area and Budapest.
This 3 hour guided tour covers the Jewish quarters with a historian who is your tour guide, a drink at the ruin bars, and an awesome street art exploration. Book your walking tour here
Buda Castle district
Spend the remainder of the day at the Buda Castle District.
This central area, in Budapest, along the Danube River is classified as a UNESCO World Heritage Site and includes important sites like the Buda Castle, Fisherman's Bastion, Gresham Palace, Széchenyi Chain Bridge, Matthias Church, Liberty Statue, and the Hungarian Parliament.
Do check out the stunning St Matthias Church (dates back to the 1015), designed in Romanesque style.
Wander over to the towers of the Fisherman's Bastion, and soak in views of the Danube, Margaret Island, Pest to the east, the Gellért Hill, and of course the stunning Hungarian Parliament. You can also book a guided tour of the complex to learn about its history.
New York Cafe Budapest
Bid adieu to Budapest by grabbing a drink (or coffee and cake) at the stunning New York Cafe.
Optional Day 11 Vienna Prague Budapest Itinerary: Bratislava
If you have additional 1-2 days in Central Europe, consider taking a day trip to Eger or Lake Balaton in Hungary.
Prefer to add another country, opt for Slovakia.
Vienna to Bratislava which is an hour drive one way is the most popular, followed by Budapest which is 2 hours drive away one-way. The main train station is located just 10 minutes from Old Town and the bus station is close by as well (just in the opposite direction).
You can also add this as a day trip from Vienna to Bratislava instead of the Wachau Valley on day 6. Here is a day tour option.
The Old Town of Bratislava is very compact. During your trip, you must visit the Old town square – Hlavne Namestie. Hlavné Námestie is free to visit and there are other buildings of historical importance that are located in and around it.
Roland fountain and the national theater are located in the same area.
If you have time on your hand, visit the Bratislava Castle. Due to its location, and elevation you are welcomed to spectacular views of the Danube river valley, parts of Bratislava, and even Hungary.
You can either conclude the trip here and return to Budapest to fly out the next day. Or stay at Hotel iBis Bratislava in the city center. Book your stay here.
Optional Day 12 Vienna Prague Budapest Itinerary: Bratislava/ Budapest return
On your final day of Prague, Vienna Budapest itinerary 12 days, explore the Blue Church in Bratislava. The St Elizabeth Church is a secessionist church located in the old town. It is a superb example of nouveau architecture and the color blue just adds to its beauty.
Add one last item to your itinerary, which is the quirky UFO Bridge. Officially known as the Slovenske Narodne Povstanie Bridge, this bridge is an iconic landmark in Bratislava.
It also has a UFO-like observation deck, and a restaurant.
After sightseeing, make your way to Vienna or Budapest from Bratislava and fly back!
Must Read: 14 Day Central Europe Itinerary with Munich, Prague, Budapest, Vienna and Bratislava
Planning for Vienna Prague Budapest Bratislava Itinerary 10 to 12 days
Quick Information | Tourist Visa | Currency | Language
In this section, you will find all the essential travel tips to prepare for your trip to Central Europe,
Currency
Language
Czech
Republic
Czech Koruna
(Kč / CZK)

Czech
Austria
Euro
German
Hungary
Hungarian Forint
Hungarian
Schengen Visa is accepted in all the 3 (including Slovakia) countries. This is a tourist visa required for non-visa exempt passport holders.
If you are visiting only these countries and not leaving the Schengen area then a single-entry Schengen Visa with the right amount of days will be sufficient. Learn about the Schengen Visa application
US and Canadian passport holders can travel visa-free for up to 90 days. From 2022 onwards, an ETIAS, which is an online travel authorization system has to be applied prior to traveling to the Schengen zone of countries.
Budget for Prague Vienna Budapest
Prague is the most affordable out of the 3 cities. Food and transport is incredibly cheap. Allot $95 USD per day per person (with food, transport, hotel on twin share).
For Budapest, set aside $110-$120 USD per person per day (twin share basis).
Average travel costs for Vienna is about $140 USD per day per person (twin share basis).
You can go for less, by staying in hostels. The prices listed here are for mid budget hotels, tours, and meals in a decent restaurant.
When is the best time to go to Central Europe?
You can visit Prague Vienna and Budapest at all times of the year. However, there are a few seasons where the cities glow in festivities and seasonal experiences which will enhance your overall vacation.
All the Central European are an all year destination meaning the prime attractions are open daily (except for certain holidays). All the cities experience 4 distinctive seasons.
Winter
December to February
Christmas lights
Shopping/ Deals
Spring
March to May
Off season
Fewer crowds
Can be gloomy
Rains

Summer
June to August
Peak Season
One of the best times
to visit
Autumn
September to November
Off season
Fewer crowds
Fall foliage
Good time to visit
Summers and winters are a popular time to visit Central Europe. It is particularly a Christmas market bucket list favorite. Prague, Vienna and Salzburg are decked up for the festive season from end of November, and festivities continue until the first week of January.
Springtime is a little tricky. Prague in March is great to visit for Easter markets, the same goes for Vienna – the weather is warming up, and flowers are springing up again. But Budapest is usually rainy, and you can expect overcast days.
You must carry a warm sweater or jacket in early spring days.
If you wish to visit in the shoulder season, consider visiting in the autumn months. All the cities are beautiful in the fall, with pleasant weather and fewer crowds – allowing you to photograph landmarks and just enjoy them at your pace.
What to pack for Central Europe for 10 days?
Prague and Budapest are beautiful cities. As a traveler, you can wear casual, but elegant clothes. Vienna is a little more fashionable and super stylish (as compared to Prague and Budapest). Locals are very well-dressed.
We recommend wearing elegant and clean fabrics – without any large logos, or loud colors. Go subtle, and neutral colors. Accessorize with a scarf, beret or one statement piece of jewelry.
There will be a lot of walking on cobblestones lanes, so wearing comfortable walking shoes is a must.
We recommend packing and carrying items in a carry-on preferably a backpack because you will be traveling a lot by train – transiting from one country to another.
We prefer to pack light and use our Pacsafe Venturesafe 45 L (45 litre) when we travel to Europe.
Pacsafe is made of anti-theft and slash proof material, and it keeps our belongings safe when we are using public transportation.
What we like about this backpack is that it opens up from the side like a suitcase and makes it easy to store our packing cubes, and access items conveniently. It has pockets for organization to keep our charging cables, universal adaptor, notebook, and toiletries.
Here is the entire list of packing items for trip to Central Europe
Tops: Long sleeve shirts, blouses & tops (for her)
Bottoms: Jeans (in dark colors), linen pants leggings
Dress: Flowy dresses. Nice sweater Dress for dinners out in the winter
Comfortable walking shoes or winter boots (winter)
Winter Parka, wool coat (winter)
Lightweight waterproof jacket (all seasons)
Sunglasses & sunscreen
Stylish accessories – Scarf, Gloves, beret
Charger: Carry multi charging cables. They are so handy to charge multiple tech devices. This is our favorite.
Universal Adaptor: A universal adaptor is a must. Europe uses a plug with two round pins (type C), unlike the flat ones in North America. You can buy yours here
Camera: Don't forget your camera. Our camera gear – Sony Mirrorless Camera and Sony AR7iii.
SD Card: To back up all the photos you will be capturing in Europe
Passport: Check the validity of the passport (not expired). Visa-related documents, if it applies.
Currency and Credit Cards: Don't forget your credit cards and currency
Travel Insurance: Get travel insurance quotes for your trip here
Additional Tips: 10 to 12 days in Prague Vienna Budapest Itinerary
How many days do you need in Budapest and Prague?
At a minimum, set aside 2 full days (each) in Budapest and Prague. This will allow you to spend one day at the Old Town, and set aside another day for experiencing some cultural and relaxing tours, and venture a bit outside of the centre.
How do I plan Budapest and Vienna in Prague?
You can easily explore all the three cities in as short as 7 days to a maximum of 14 days comfortably adding a couple of day trips from each destination as well.
How do I get from Prague to Vienna and Budapest?
Trains can be used to reach Vienna and Budapest from Prague. There are regular trains connecting Prague and Vienna (we recommend an overnight train – as Prague to Vienna train takes over 7+ hours long).

Prague and Budapest are connected by Railjet high speed trains. This train departs from the central Prague rail station called Praha Hlavni Nadrazi and arrives at the central Budapest train station called Keleti. Prague to Budapest takes about 5.50 hours. 

Vienna to Budapest takes about 3.50 hours by train.
What is the best way to travel from Prague to Vienna?
We found an overnight train from Prague to Vienna one of the best ways to travel – saving time (for sightseeing), and saving money on accommodation. Next best option is to drive.
Small group tours Budapest, Vienna and Prague
We have handpicked our top picks here
We hope you found this Vienna, Salzburg-Prague, Budapest itinerary useful in planning yours! Have more questions? Let us know in the comments
Pin: Vienna Prague Budapest itinerary 10 days to 12 days